Boca Raton DACOR Freezer and Refrigerator Appliance Repair Technician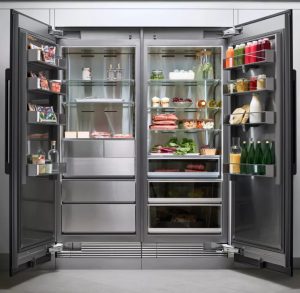 All appliances have an expiration date and they all malfunction and break at some point. But they can also be repaired, so long as you have the right team for the job. We're that team you've been looking for. If your Boca Raton Dacor freezer or refrigerator has stopped working, don't sweat over it! Contact our team and we'll take it from there!
We pack the most experience and expertise you could wish for and are always available, for both consultations over the phone or in-person assessments and repairs. JT Appliance Repair delivers top-tier services, impeccable customer support, and all-around expertise, no matter the appliance you're having problems with.
Why Hire JT Appliance Repair?
There's no doubt that there are numerous appliance repair companies around that you can choose from. But there's also no doubt that few of them ever rise to the highest standards in the business. We do. Our team promises and delivers the following:
All-Around Expertise – We don't limit ourselves to some appliances-only. Instead, we cover the entire beach of products, including, but not limited to, coolers, ice machines, fridges, walk-in freezers, water heaters, and many others. This saves you time, money, and effort, otherwise spent looking for different providers, depending on the nature of your problem.
Same-Day Assessment and Repair – Some appliances are more important and indispensable than others and we understand that. If you need your item back in pristine condition asap, we can make it work. We function on an emergency-first system, where emergencies take priority. Simply tag your job as urgent and our team will bump it up at the start of the line, so your problem gets solved first. You will also receive a diagnosis on the spot so you know what the issue is, how long it takes to fix it, and the expected costs.
24/7 Availability – Nothing is more annoying than having your appliance break Friday in the afternoon, when no one is available to fix it. We help you circumvent this problem by delivering 24/7 service in your area and start working on your issue right away. It doesn't matter the time of day or night. If your fridge or cooler breaks and you need NOW, give us a call and we'll make it happen.
Vast Experience and Well-Rounded Qualifications – Our team of experts can cover everything from residential to commercial and even marine appliances. Nothing is out of reach and we deliver high-end services in all areas, no matter the scope or complexity of the project. Most importantly, we can accelerate the job if you tag it as urgent regardless of the complexity of the issue.
We're aware of the fact that some appliances are vastly more important than others, especially those meant for commercial use. So, we can speed up the repair job significantly, no matter how tricky it might be.
Best Dacor Appliance Repair Technician
If you're looking for the best bang for buck in the shortest amount of time (who doesn't?), you've come to the right place. We pride ourselves with our unparalleled services, wide reach, same-day repairs, and the astounding emergency system that brings our team to your doorstep as soon as possible.
We also exhibit top customer support and high-quality assessments and services. You will never leave our shop with a wrong diagnosis or an incomplete or faulty job. Not to mention, we specialize in most brands and models, no matter the year of production. You can inquire our representative about your specific appliance model and brand, but expect that we can handle it.
Furthermore, we're never happy with what we know, so we always improve our knowledge and expertise by the day. New models and brands keep hitting the market at an accelerated pace, which forces us to adapt with the same speed.
Contact
You can reach our team at (561) 902-4694 or (954) 729-7320 for a free consultation or complete the following contact form if you wish to submit your request. Give us as many details as you can about your problem so that our technician is fully informed of the issue before reaching your doorstep. If you want to put the job under the emergency status, do so by selecting the appropriate field in the contact form.
Frequently Asked Questions
What areas do you serve?
You can find our team in a multitude of places, including Riviera Beach, Lantana, Palm Springs, Lake Park, Highland Beach, Ocean Ridge, and many others. Visit our website for the full list.
What if my appliance brand is not listed?
We currently handle little over 25 different brands like Dacor, Viking, Sub-Zero, Scotsman, and many others. But what if yours isn't listed? In that case, you can request for a free consultation to assess your case. Even if your brand isn't listed on our website, this doesn't mean our experts can't handle it. Hint: in most cases, they can.
So, visit our webpage with confidence, give us a call, and let's see what we can do for you!