Boca Raton KitchenAid Freezer and Refrigerator Appliance Repair Technician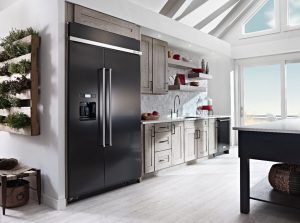 Do you have a broken KitchenAid freezer or refrigerator in Boca Raton? Whenever either of these appliances breaks down, it can cause a lot of discomfort for people in their house. This is because their food can no longer be frozen or cooled until the appliances get fixed. Therefore, you should not waste any time calling our appliance repair company for assistance.
JT Appliances offers professional and reliable KitchenAid freezer and refrigerator repair services in Boca Raton. Our appliance repair technicians have advanced knowledge of this particular brand of freezers and refrigerators, so it won't take us long to repair the problem.
Why Hire JT Appliance Repair
JT Appliance Repair has the knowledge and tools to repair your KitchenAid branded refrigerator or freezer on the same day you contact us for assistance. We will send a manufacturer-certified appliance repair technician to your home or business to fix the issue with your KitchenAid appliance.
Our company is committed to providing excellent customer service and professional quality work on every repair job we execute. We have been repairing more than 25 different brands of freezers and refrigerators for over 20 years in Boca Raton and surrounding cities. You won't find more experienced technicians at any other appliance repair company in the region.
You can reach us quickly. JT Appliance Repair is available 24 hours per day to answer your calls and repair your KitchenAid appliances in Boca Raton. We pride ourselves on our fast response time after customers call us to request assistance. After all, appliance problems cannot be left unrepaired for too long because they can worsen if not addressed immediately. That is why we act fast at any time of the day or night.
Best KitchenAid Appliance Repair Technician
JT Appliance Repair can repair all types of KitchenAid products and appliances. Some of which include:
Freezers
Refrigerators
Built-In Ovens
Cooktops / Rangetops
Dishwashers
Our KitchenAid appliance repair technicians have all the necessary tools and skills to repair any KitchenAid freezer or refrigerator model that you may have in Boca Raton. If your appliance needs to replace parts, we have an inventory of spare parts compatible with most KitchenAid appliance models. It won't take us long to replace the parts and repair your appliance to full functionality. 
JT Appliance Repair is confident in the quality and effectiveness of our appliance repair services. For this reason, we offer a 5-year warranty on all the mechanical parts we install in your KitchenAid appliance. Then you won't have to worry if your appliance breaks down again because we can return to your property and replace the faulty parts again for free.
Of course, there are some circumstances where a KitchenAid freezer or refrigerator may be too old or worn out to be salvaged. Our appliance repair technicians will determine whether your appliance can be saved based on its current condition. We'll present every viable option to save the appliance if possible. Otherwise, we'll inform you if the appliance needs replacement. 
Contact
Are you ready to request an emergency KitchenAid appliance repair service in Boca Raton? You can contact us at 954-729-7320 or 561-902-4694 to submit your request or find out additional information about our services. Our technicians have the skills and training to repair KitchenAid freezers and refrigerators, so it shouldn't take us long at all.
JT Appliance Repair strives to offer quality and affordable services at competitive prices. We will be ready to replace any part in your KitchenAid appliance to restore its functionality as soon as possible. Our company serves customers throughout Boca Raton and its surrounding cities in South Florida.
FAQs
How quickly can you respond to a service request? 
JT Appliance Repair is proud to offer same-day repair services on all KitchenAid freezer and refrigerator models in Boca Raton. We serve commercial and domestic customers no matter where they are located in the city. Just call us at 954-729-7320 or 561-902-4694 and submit your emergency service request. We will send the nearest available technician to your address with the tools and skills needed to resolve the issue with your appliance.
Can I save money repairing my KitchenAid appliance rather than replacing it? 
You may feel tempted to replace your KitchenAid freezer or refrigerator to save money on future repair costs, especially if your appliance is old. However, we don't recommend you take this approach because replacement costs are more expensive than repair costs. New appliances can cost several hundreds of dollars, sometimes even thousands of dollars.
On the other hand, our KitchenAid appliance repair services are a small fraction of the cost to replace an appliance. Therefore, you can save much more money repairing your KitchenAid appliance compared to the cost of replacement. We offer some of the most competitive prices on repair services in the industry. Contact us to get an estimated price quote on our appliance repair services.