Delray Beach DACOR Freezer and Refrigerator Appliance Repair Technician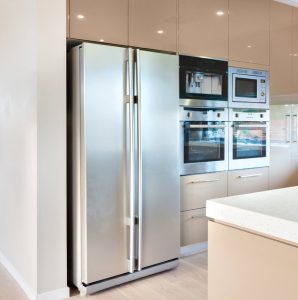 Is your cooler, freezer, water heater, or any other appliance misfiring or stopped working completely? JT Appliance Repair is here to assist. We have several decades in the industry, an outstanding database of satisfied customers, and unparalleled experience. There's nothing our technicians can't handle in terms of home or commercial appliances, regardless of the brand or model.
If you're interested in our services, contact our team and we'll provide you with free consultation, immediate diagnosis, and a prompt quote asap. You no longer need to wait for days for your problem to get fixed, as we can do it better and faster than anyone else.
Why Hire JT Appliance Repair?
Our brand has several aces up its sleeve, including:
Wide Coverage – Our proficient technicians can handle multiple types of appliance types, including, but not limited to, freezers, refrigerators, cooktops, built-in ovens, dishwashers, and many others. We also cover numerous brands and models, such as True, DACOR, U-Line, Viking, Sub-Zero, and so on. This allows us to expand our client database by the day, especially since our technicians expand their knowledge and expertise constantly, adding more models to our ever-growing list.
Extensive Knowledge – We've been active in this field since 1984, which provides us with unparalleled knowledge and proficiency in what we do. There are virtually no electrical or mechanical faults we haven't seen, which means there's nothing we can't handle.
Emergency Services – If you need your appliance repaired asap, you can contract our emergency services. Our team offers same-day repairs for those who opt for it simply because we understand that some appliances are indispensable. This applies to both residential and commercial clients. Simply tag your repair job as in need of Same-Day assistance in our contact form and our technician will be at your home asap. Your job will take priority over everything else we have pending that day.
24/7 Assistance – You can contact us at any time, day and night. You no longer need to wait for the weekend to end in case your appliance breaks Friday in the afternoon or Saturday morning. We have a team of technicians on standby at any time of day or night, ready to assist you.
Multiple Locations – We're available throughout South Florida, including Riviera Beach, Delray Beach, Boca Raton, West Palm Beach, Palm Springs, and many others. You can find our full list of locations on our website. This allows us to serve clients from all over South Florida, so that everyone has access to our top services.
Best DACOR Appliance Repair Technician
You want the best services, immediate results, and fitting pricing. We offer everything and more, as we always strive to exceed expectations. Our team exhibits impeccable work ethics, treats clients with the utmost respect, and showcase unparalleled expertise and professionalism. You could not wish for a better team of professionals to handle your problem.
But what about if your appliance model or brand isn't listed on our website? Don't worry, we have answers for you in that case too. You can simply call our technicians, inform them of your issue, give them all of the necessary details, and they'll take it from there. Just because your specific appliance brand isn't listed doesn't mean we can't handle it. Our technicians have vast experience in the field and can complete virtually any job pertaining to appliance repair.
If not, at least we'll give you a diagnosis and some advice or references as to where you can find adequate assistance. Either way, you won't leave empty handed.
Contact
We're available for contact 24/7 at (561) 902-4694 or (954) 729-7320) or online via our contact form, whichever contact channel works best for you. If you're using the contact form, make sure you're describing your problem as thoroughly as possible. The more details you include, the more prepared and knowledgeable our technician will be upon arriving at your doorstep.
Frequently Asked Questions
How soon can you repair my appliance?
The ETA depends on the job's complexity and your preferences. If you need your item back asap, you can opt for our Same-Day services. As the name suggests, this means that we'll get your appliance up and running inside 24 hours. If not, the timeframe depends on the job complexity. Our technician will inform you of the duration upon assessing the issue and based on the work schedule at that time.
What's the cost of repairing my appliance?
The cost varies based on the type of appliance and the problem that needs solving. More complex problems require more complex approaches, which may increase the costs. The best approach would be to discuss your case with our technician, explain your issue in detail, and ask for a quote and an ETA for the job. You'll get both on the spot.
If you want more details about our services, visit our website or give us a call!