Deerfield Sub-Zero Freezer and Refrigerator Appliance Repair Technician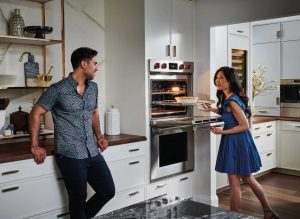 The Sub-Zero appliance brand is synonymous with excellence. People purchase Sub-Zero appliances because they believe in their quality, durability, and longevity. But like any high-end appliance brand, its appliances can develop problems when any one of its components goes bad. But rather than replacing the entire appliance, you can save money by replacing its bad components instead. Then you can get many more years of life out of the appliance.
The first step is to choose a dependable and reputable appliance repair technician in Deerfield. You could literally find a dozen different appliance repair companies in Deerfield. However, few of them have the same reputation and qualifications as JT Appliance Repair. We bring more than 25 years of professional experience to the table.
In addition, our technicians have advanced knowledge of Sub-Zero appliances and how they operate, which is beneficial when customers hire us to repair their Sub-Zero appliances. Our understanding of Sub-Zero appliance technicalities gives us an advantage over other appliance repair technicians in the area.
As a result, we can have your Sub-Zero appliances repaired within a faster timeframe without compromising the quality of our work. Learn more below why JT Appliance Repair is the best choice to fix your Sub-Zero appliances.
Why Hire JT Appliance Repair 
JT Appliance Repair has an elite team of technicians who understand the technical nature of common Sub-Zero appliances, such as freezers, refrigerators, built-in ovens, ranges, dishwashers, and more. When you have a Sub-Zero freezer or refrigerator not working the way it is supposed to work, you'll need a technician who knows how to identify functionality problems in these appliances.
You should hire our technicians because we have years of experience repairing Sub-Zero appliances. We know how to spot the component causing a functionality problem. Once the component has been identified, we will replace it immediately. Our mission is to restore the complete functionality of your faulty Sub-Zero appliances as quickly as possible. After all, there is no time to waste where bad freezers and refrigerators are concerned.
Best Sub-Zero Appliance Repair Technician 
JT Appliance Repair is one of the few appliance repair technician companies to offer 24/7 emergency service in Deerfield. You can submit your emergency service request for us to repair your Sub-Zero appliance whenever you need it done. Once we receive the request, we'll dispatch the nearest technician to your address.
Our company employs the very best Sub-Zero appliance repair technicians in Deerfield. They are all educated, certified, insured, and knowledgeable of how Sub-Zero appliances work. As a result, we guarantee you'll have true professionals fixing your Sub-Zero freezer or refrigerator when you call us for assistance. 
JT Appliance Repair is a company with technicians who have commitment, promptitude, knowledge, and professionalism in their work. We believe customer satisfaction is the only successful business model, which is why we've managed to stay in business for over 25 years. We know you will be more than pleased with the results of our repair work on your Sub-Zero appliances.
Are you ready to get your Sub-Zero appliances fixed quickly and professionally? If so, then don't hesitate to contact us. One of our customer support representatives will be happy to answer your questions and set up a service call upon request.
Contact 
JT Appliance Repair is only one phone call away in Deerfield. Call us at 954-729-7320 or 561-902-4694 to submit a Sub-Zero appliance repair request and receive a free price quote on our repair services. We always try to keep our prices fair and competitive based on the complexity of the problem.
It won't take long for our technicians to figure out which component is the cause of the problem. After the faulty component has been identified, we'll immediately replace it to restore the functionality of your Sub-Zero appliance. This will all happen within the same day we start working on it.
FAQs 
Do you only serve customers in Deerfield? 
JT Appliance Repair has a fleet of technicians available to serve you in Deerfield or most other cities in South Florida. So, if you are not in Deerfield but a nearby city instead, then chances are that we can still serve you too. Some of the other cities we serve include Boca Raton, Lantana, Riviera Beach, Ocean Ridge, Hillsboro Beach, West Palm Beach, Palm Beach, Delray Beach, and many others.
Contact us at 954-729-7320 if you have questions about service availability. As long as you are in a city within the vicinity of Deerfield, we should be able to respond to your emergency repair requests immediately.
Are your technicians able to repair any Sub-Zero appliance model? 
Our technicians are educated and familiar with virtually all Sub-Zero freezer and refrigerator models. That is why we're confident that we can repair your faulty Sub-Zero freezer or refrigerator without any problems or setbacks. We'll bring all the necessary tools, accessories, and skills to complete the repair job to your satisfaction.