Lantana Viking Freezer and Refrigerator Appliance Repair Technician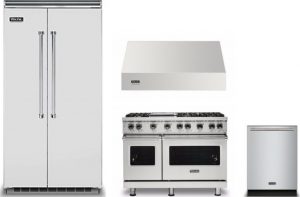 If you live in Lantana and have issues with your freezer or refrigerator, we have good news for you. Our team handles any appliance and delivers top repair jobs in a timely manner and at affordable prices. We can work with the Viking brand, as well as numerous other brands like DCS, True, U-Line, Sub-Zero, and many others. We have a list of brands that you can check on our website.
More importantly, we can adapt and work outside of that list. Our technicians are very knowledgeable and proficient with any type of appliance, regardless of type, model, or brand.
Why Hire JT Appliance Repair
JT Appliances operates as one of the top appliance repair entities in the business. There are several reasons why you should consider contacting our team immediately. These include:
Top Quality and Warranty – Our 40 years of experience in the business empowers us to vouch for the quality of our services and the impeccable customer support. We know what our clients need and that's quality work, timely delivery, and manageable prices. You will get a 5-year warranty for all of the mechanical parts that we repair or replace. Anything happens during this timeframe, contact our technicians and we'll repair or replace the faulty elements free of charge.
Around-The-Clock Assistance – It would be nice of appliances would only malfunction when convenient, but they never do. We can't even recall how many times our team has been called in the middle of the weekend, often times at nighttime, for an urgent job. This is true especially for freezers and refrigerators, which are indispensable in any home. Fortunately, we're always available for contact and work. You can reach us 24/7, no matter the time of day or night, and our team will be at your door asap.
Same-Day Repairs – This is one of our most prized services and for good reasons. Freezers and refrigerators often require immediate repair because you cannot live without them. This is what our Same-Day repair service aims to satisfy. If you need your appliance repaired asap, you can place it under the Same-Day tag. Our team will be at your door in the shortest time possible and return your item fully repaired and in working order within 24 hours max.
Widespread Coverage – Big things have small beginnings and the same applies to us. We've started in 1984 in only one state and we know operate in multiple, constantly growing our client database and constantly expanding. You can find us in a multitude of places, including Lantana, West Palm Beach, Boca Raton, Delray Beach, North Palm Beach, Lake Worth, and many others.
If you need immediate appliance repair services, hire us to repair your Viking freezer or refrigerator and we'll get to work immediately.
Best Viking Appliance Repair Technician
Home appliances have become things you can't live without in today's world. Even something as standard as a coffee machine is indispensable. Many times, fixing them can be a headache, given that not all technicians are proficient in all types of appliances and models. Ours are.
JT Appliance Repair can fix anything, no matter the model, type, brand, or any other metric. All you need to do is contact our team, lay out your issue, and let our professionals take over. We're the best Viking appliance repair team in your area and beyond and we're one phone-call away.
Contact
Our JT Appliance Repair team is reachable at 954-729-7320 or 561-902-4694 and is available 24/7 for contact. You can also come online to fill our form and detail your problem directly on our website if that feels easier.
FAQ
How Soon Can You Repair My Appliance?
The timeframe necessary to complete the job depends on several aspects. These include the type of appliance you need fixing, the complexity of the issue, how many ongoing jobs we have, how soon you need your problem solved. Generally, it shouldn't take more than 1-3 days to get the job done, but this may vary.
You'll get a more accurate quote by showcasing your problem to one of our technicians and having one of our professionals diagnose the issue. Not to mention, you can always opt for our Same-Day services if you want the job completed in urgent manner. This means that from the time of your call to getting your appliance back in working order won't pass more than 24 hours.
How Much To Repair My Freezer or Refrigerator?
The costs depend on the job's complexity. You should consult with one of our technicians if you require assistance soon. Our professional will assess the damage and provide you with an approximate timeframe for completing the job and a price quote. Don't worry, we offer affordable prices, so that anyone can contract our services, no matter their budget. We'll find ways to accommodate your financial situation.
If you're interested in our services, contact us at 954-729-7320 or 561-902-4694 or fill our online form and we'll get to work asap!