Delray Beach KitchenAid Freezer and Refrigerator Appliance Repair Technician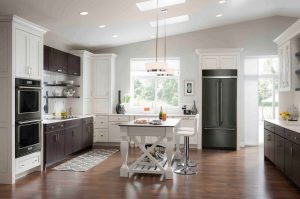 KitchenAid freezers and refrigerators are lovely additions to most households and businesses because they are high-quality appliances from a trustworthy brand. Many people depend on these appliances each day to store their food items safely. That is why it can be a challenging experience when one or more of these appliances stops working.
Do you have a KitchenAid freezer or refrigerator that has stopped working? If so, you should not wait to get it repaired. JT Appliance Repair offers professional KitchenAid appliance repair services to property owners across Delray Beach and surrounding South Florida cities. Our experienced and dedicated technicians are ready and able to repair your faulty appliances on the same day you request assistance. 
Why Hire JT Appliance Repair
JT Appliance offers high-quality appliance repair services in Delray Beach. We bring more than two decades of experience to every repair job. Our technicians are more than qualified to repair many different KitchenAid appliance products. The most common repair requests we receive are for appliances like:
Freezers
Refrigerators
Ice Machines
Built-In Ovens
Coolers
Cooktops / Rangetops
Dishwashers
No matter which KitchenAid appliance model you need to get repaired, we can provide the repair services 24 hours per day, seven days per week. You also won't have to wait long for our technicians to arrive at your property to perform the repair service because we work quickly to please our customers. 
JT Appliance Repair has the closest and most readily available appliance repair technicians. It is our goal to provide easily accessible services to ensure our clients get assistance fast. All our technicians are true professionals who uphold our company's high expectations and standards. So you'll have nothing to worry about when our technicians are assisting you.
Best KitchenAid Appliance Repair Technician
JT Appliance Repair is great at our job. In fact, many people call us the best KitchenAid appliance repair company because we have more experience and skill than other appliance repair companies. Not only that, but we can repair the models of many different appliance brands besides KitchenAid. These other brands include Viking, Sub-Zero, Mielie, Scottsman, Dacor, and U-Line. 
Our technicians have in-depth knowledge of how KitchenAid appliances operate. We have studied their inner workings and understand how to spot a faulty component in them. It could even be the smallest component which seems insignificant, but we will be able to identify it if it's causing problems.
In addition, we aren't afraid to offer a five-year warranty on all our replacement parts. It is one more way of assuring our customers that we provide high-quality and dependable services. So if your appliance stops working again within five years after we replace its components, you can request us to come back and repair your appliance at no cost.
Contact
JT Appliance Repair has technicians all over Delay Beach to assist commercial and domestic customers. You can contact us at 954-729-7320 or 561-902-4694 to submit your KitchenAid appliance repair request. The first thing our technician will do is examine your appliance to determine the specific nature of the problem. Once the faulty part has been identified, you will receive an estimated price quote for the repair service.
Repairs can be made on the same day immediately. We will do everything we can to expand the lifespan of your KitchenAid freezer or refrigerator. You can request an emergency repair service on the same day or standard repair service on a scheduled date and time. We are open 24 hours per day to receive your requests, so feel free to call whenever you have problems with your KitchenAid appliances.
FAQs
Should I replace my KitchenAid appliance rather than repair it? 
There is no way to answer that question unless we have a chance to examine your KitchenAid appliance up close. Of course, we would always recommend trying to repair the appliance before ever recommending a replacement. It is so much cheaper to pay a technician to repair the appliance compared to the cost of replacing the entire appliance.
Older KitchenAid appliances may be salvageable too. If we can replace the faulty components of your KitchenAid appliance within a reasonable timeframe, it can help extend its lifespan for a couple more years or longer. But you have to act fast by calling our customer support team as soon as you notice problems with your appliance. It is the best chance you'll have of saving your appliance.
How can JT Appliance Repair help? 
JT Appliance Repair operates a clean and straightforward appliance repair business in Delray Beach. When our technician arrives at your property, the first thing they will do is investigate the cause of the problem. This will require the technician to examine your appliance thoroughly to locate the faulty component. It won't take long for the malfunction to be identified and then repaired if you agree on the estimated price for the service.
Remember that we offer same-day repair services for all emergency service requests in Delray Beach. Our goal is to get your KitchenAid appliance working fully again quickly.