JT Appliance Repair Palm Beach Shores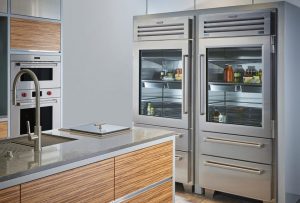 Palm Beach Shores is a city filled with thousands of homeowners and business owners. The one thing these property owners have in common is they have appliances inside their buildings. These appliances can perform so many essential daily tasks at a much faster rate than if you were to do them manually. For example, they can cook food, wash & dry clothes, freeze food, cool air, etc.
But what happens if one of your essential appliances breaks down and stops working? It could be a significant setback for your lifestyle or business because that faulty appliance can no longer perform its most vital functions anymore. Then you'll have no choice but to get your appliance repaired or have it replaced entirely. If you can help it, try to get your appliance repaired before considering a replacement. It is the best way to save money.
Most faulty appliances are repairable. However, the only way you're going to know that is if you have a professional technician examine your appliance. It should be a trusted and reliable technician with the proper training and experience in the field of appliance repair services. That is what you can expect when you hire a technician from JT Appliance Repair in Palm Beach Shores. 
Why Hire JT Appliance Repair
JT Appliance has been in the business of repairing faulty appliances in Palm Beach Shores for more than 25 years. Our customers consist of local commercial and residential property owners with appliances that no longer work correctly. These could be appliances with bad parts in them or something more severe. In any case, our technicians have the proper training, education, tools, and expertise to diagnose the problem and develop a viable solution for it.
Our elite team of professionals includes appliance repair technicians, parts specialists, and customer service representatives. We constantly collaborate with our customers to better understand their appliance issues and create a unique strategy for resolving them. That way, we know the outcome will be more than satisfactory to the customer. This should give you peace of mind knowing we can fix your appliance issues too.
Brands JT Appliance Service
What brand is your faulty appliance? Don't worry, though, because JT Appliance has repaired appliances made from over 25 of the most popular and most common brands on the market. They are a mixture of national and international brands, so your appliances probably bear at least one of their names.
Some of the appliance brands we are familiar with include the following:
Sub-Zero
Viking
KitchenAid Built-In
GE Monogram
U-Line
Scottsman
Mielie
Dacor
DCS
True
And more!
Each appliance brand is different in terms of design and layout. Even if you have an appliance brand not featured on the list above, we may still be able to repair the appliance. But the only way we'll know for sure is when we inspect the unit up close. Our technicians will analyze all the essential components and parts of the appliance to determine where the problem lies.
Contact
JT Appliances offers free consultations to anyone with an appliance problem in Palm Beach Shores. You'll get to discuss your situation with one of our professional appliance repair technicians. Please provide the technician with all the information you know about the appliance, such as the brand, model number, age, and the problem you're experiencing with it. This information will help us prepare for the job appropriately.
Please schedule an appointment for a consultation today by calling our customer support team at (561) 902-4694. We are open 24 hours per day, seven days a week to take your questions and requests in Palm Beach Shores.
FAQs
1) What are the service delivery options available? 
The three service delivery options available are Same Day Delivery, Next Day Delivery, or Non-Urgent Delivery. The faster delivery option has a slighter higher rate than the slower and non-urgent options. However, all three options will produce the same quality repair results. It's just a matter of when the repair takes place.
For instance, if you depend on a particular appliance to sustain your business productivity or personal livelihood, then you'll want to choose the Same Day Delivery option. It is an emergency service option reserved for customers who desperately need their appliances repaired without delay. If you select this delivery option, we can have a qualified technician show up at your property within 60 minutes.
2) What kinds of appliances are you able to repair? 
JT Appliance Repair is more than capable of repairing all the usual appliances you would find in a home or business. Some examples of these appliances include dishwashers, stoves, ovens, walk-in freezers, refrigerators, ice machines, air conditioners, water heaters, gas-based appliances, and so many others. When you contact us for a consultation, we'll let you know if we can repair your particular type of appliance.