Scotsman Appliance Repair Technician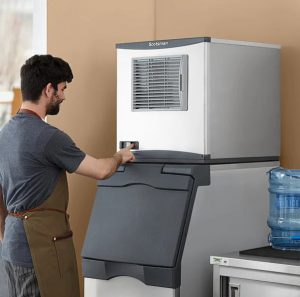 Scotsman is a trusted and reputable brand of ice machine appliances. In 1950, Scotsman introduced their first ice cube-producing technology to the world. Since then, this American company has revolutionized the ice machine industry by creating ice machines made with high-quality materials and innovative functions. It is easier than ever for consumers to produce ice with a Scotsman ice machine appliance. They can choose to make ice cubes, ice flakes, and ice nuggets with the simple push of a button.
Unfortunately, Scotsman appliances are susceptible to wear and tear like any other appliance. If your Scotsman ice machine has malfunctioned or stopped operating correctly, you'll need a trusted Scotsman appliance repair company to fix the problem for you.
Why Hire JT Appliance Repair? 
JT Appliance Repair is the leading Scotsman appliance repair company in South Florida. We have a team of highly trained specialists who have the knowledge and skills to repair any Scotsman brand appliance.
Our South Florida customers have trusted our company for over 25 years because we deliver fast and efficient results. It doesn't matter if you have a household or commercial-grade Scotsman appliance. Our technicians have the necessary training to repair any Scotsman appliance within a short timeframe.
You can contact our offices 24 hours per day, seven days per week to receive emergency assistance with your Scotsman appliance. We can have one of our specialists come to your home or business at any time of the day or night. You will not have to wait very long at all for our repair specialist to arrive. Customer satisfaction is our guarantee.
Locations We Service 
JT Appliance serves some of the most popular cities and locations of South Florida. These locations include:
West Palm Beach
Boca Raton
Palm Beach
Ocean Ridge
Hillsboro Beach
Delray Beach
Deerfield
North Palm Beach
Riviera Beach
Lantana
We have qualified Scotsman appliance repair technicians in all of these South Florida cities. When you contact us to request assistance, we will dispatch the nearest technician to your address. We serve all residents and business owners of South Florida.
Contact 
There are multiple ways to submit your Scotsman appliance repair request to our team. The traditional contact method is to call our phone number at (561) 902-4694 and speak to our live customer service team. Let them know about your Scotsman appliance and the nature of the problem you are experiencing with it. We'll arrange to have the most qualified technician respond to your request with the necessary tools and equipment to do the repair job.
Alternatively, you can use our online email form to submit your request too. Just provide your first name, last name, phone number, email address, appliance brand name, and details about your problem with the appliance.
FAQs 
1) Do you offer same-day services? 
Yes, we offer emergency appliance repair services for all Scotsman brand appliances. When you contact our office to submit your emergency repair request, we'll have a qualified repair specialist to your property within the hour after you call.
We understand that the functionality of your appliances is essential for your comfort and livelihood. That is why we don't waste any time responding to same-day service requests from our customers in South Florida. We make sure our specialists arrive promptly to help our customers. 
2) Can you repair other appliance brands besides Scotsman 
Yes, our appliance repair specialists are familiar with over 25 popular different appliance brands. If you have an appliance that is not the Scotsman brand, we can probably repair it anyway. You can learn more about this when you call our office for a free consultation at (561) 902-4694.