North Palm Beach Sub-Zero Freezer and Refrigerator Appliance Repair Technician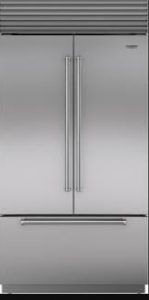 Has your Sub-Zero fridge broken down, and do you need professional repairs? JT Appliance Repairs has the best Sub-Zero repair services in North Palm Beach. Our technicians have extensive experience repairing this type of appliance, so we'll restore your fridge to full functionality in no time. All you need to do is call us when your fridge starts making strange sounds or has other weird symptoms.
Fridges and refrigerators don't all exhibit the same behavior patterns when breaking down. Some emit strange noises, others smell weird, and others just stop. It's not always apparent if your fridge has issues or not. But don't worry! You can call JT Appliance Repair at any time for an expert assessment of your fridge.
Call us at (561) 902-4694 or (954) 729-7320 to schedule a visit by our technicians. You can also use our contact page to send us a message!
Why Hire JT Appliance Repair
JT Appliance Repair is not the only appliance repair firm in North Palm beach. But we have the most experience with Sub-Zero appliances. For over 25 years, we've repaired countless fridges and refrigerators of the Sub-Zero variety, both old and new models. Our technicians can identify the cause of the problem in a few minutes and begin repairs immediately. We always ensure full functionality after our repairs.
Here's why JT Appliance Repair is the optimal choice for your Sub-Zero needs:
Close Familiarity with Sub-Zero: All of us have grown up using Sub-Zero appliances, which means we have the most experience repairing them. Our technicians know the location of every bolt and gear in these fridges!
Low-Cost Repairs: Compared to buying a new fridge, the repair costs are considerably lower and more advantageous to you. We never overcharge on basic repairs and give you a detailed rundown of advanced repair costs upon demand;
Guaranteed Client Satisfaction: Your fridge will never need another repair after we finish it. We guarantee autonomy for several years in almost all cases.
We Repair all U-Line Products: Freezers, refrigerators, dishwashers, built-in ovens, cooktops, rangetops, and more
In other words, JT Appliance Repair is your greatest asset when you need Sub-Zero repairs. There's no appliance brand we're more familiar with than Sub-Zeros, which means we'll be able to repair almost any problem with your fridge. In rare cases, the damage is too extensive, and you may need a replacement. But we'll tell you that ahead of time instead of trying to repair it superficially.
Best Sub-Zero Appliance Repair Technician
Our technicians are certified to repair all Sub-Zero models, and we're available 24/7, Monday through Sunday. There's never a moment when you can't call us for repair services. Whether day or night, weekday or weekend, don't hesitate to contact us to schedule a visit by our technician. Our Sub-Zero fridge may develop even more issues if it's not repaired in a reasonable timeframe.
We recommend repairing it as soon as you notice alarming signs like:
Strange noises
Weird smells
Unexpected refrigeration pauses
Unexpected high or low temperatures
If you notice any of the above, call JT Appliance Repair. Let us know what's happening, and we'll send someone to your home immediately. They'll look at your Sub-Zero and identify the problem immediately. Then, we'll give you a cost estimate, and if you agree, we can start repairing your fridge on the spot.
Contact
Did your Sub-Zero start behaving erratically, and do you think it needs repair? Call JT Appliance Repair at (561) 902-4694 or (954) 729-7320 for more information on our repair services. Use our online form to leave us a message if you can't call us!
FAQ
How soon can you repair my Sub-Zero fridge?
As soon as you call us, our technician will arrive and start investigating your Sub-Zero. We can begin repairing it immediately if the damage isn't "lethal". In rare cases, there's nothing we can do, and we'll notify you of that. But generally, we can finish repairing your Sub-Zero fridge or refrigerator on the same day.
Don't hesitate to contact us as soon as your Sub-Zero shows signs of distress. That might be the start of extensive damage unfolding in time. Our technician will know what to do and how to repair your fridge immediately.
Do you offer repair guarantees in North Palm Beach?
We offer 100% client satisfaction with our repairs. If your Sub-Zero malfunctions immediately after our servicing, call us. Our technician will drop by and fix your Sub-Zero free of charge. But this has never happened to us. All of our repairs have restored the appliance to full functionality without issues.
Still, we're humans, and humans make mistakes. We consider that our technicians may be at fault if something happens with your Sub-Zero. In that case, we take full responsibility and repair your fridge immediately!