JT Appliance Repair Deerfield Beach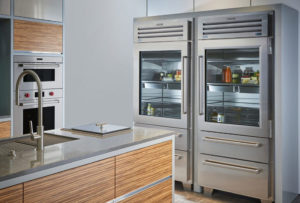 Home appliances have a limited lifespan, and even then, premature malfunctioning is not out of the question. The cooler may stop working or the fridge's freezing settings go haywire. That's where JT Appliance Repair can help you. We're a professional appliance repair firm in Deerfield Beach that operates 24/7. Our technicians have experience with a wide range of appliance brands, making us your best option!
Why Hire JT Appliance Repair
Your fridge started malfunctioning and you need to repair it. Who do you call in Deerfield Beach? There are many repair companies available, but JT Appliance Repair stands out for several reasons:
Professionalism – We guarantee our workmanship and repairs on any home appliance. If it doesn't work after we fix it, call us and we'll repair it for free, though that won't be necessary. Our repairs are a one-time deal!
Rapid Response – Our same-day services allow us to fix your appliances on the same day you call us. There's no need to delay until the following day. We'll be done in no time and let you resume your day-to-day life
Transparency – We have no hidden fees nor any hidden clauses for our services. What you see is what you get. You pay only for the repairs and nothing more, and our technician will offer a quote on the spot
Commitment – We never go back on our word and we never overestimate our capabilities. If we can't repair something, we'll let you know from the get-go. But if we can fix your appliance, we'll do it with 100% commitment
With most home appliances, if they malfunction, the household is crippled until you hire a repairman. Don't hesitate to contact us in Deerfield Beach so we can help you out!
Brands JT Appliance Service
JT Appliance Repair specializes in repairing refrigerators and freezers of any brand or model. We can perform repairs on Dacor, Mielie, Scottsman, Sub-Zero, Bosch, U-Line, GE Monogram, Viking, KitchenAid Built In, DCS, True, Dacor, and many more. Almost all brands are included in our service repair package. There aren't many brands that we haven't repaired before, so you're welcome to contact us for your fixing needs.
All our technicians are veteran repairmen who've seen everything, from busted refrigerators to malfunctioning walk-in freezers, and faulty dryers. Your appliances are in good hands thanks to the ample expertise of our technicians. Moreover, we offer an absolute guarantee of our repairs. What we fix will operate at optimal capacity or your money back!
Contact Us
Deerfield Beach doesn't have many professional appliance repair companies. JT Appliance Repair is a great solution if you want immediate assistance with your problem. We can fix anything, starting with refrigerators and freezers, and ending with dishwashers, dryers, ice machines, water heaters, and more.
Call us at 954-729-7320 or 561-902-4694 for a quick quote on your repair needs. We'll send a technician to assess your refrigerator, estimate the repair costs, and fix your appliance. We do everything quickly so you can get back to your life as soon as possible. Moreover, our 24/7 working schedule means you're always covered in case something happens with your appliances.
FAQs
Do you offer commercial repairs?
Yes, we do. We've served many businesses in Deerfield Beach in our 25 years of activity. We repair water heaters, ice machines, refrigerators, fridges, and more. We're a business' best friend when it comes to appliance repairs!
Do you repair walk-in freezers?
Our technicians can repair any mode of walk-in freezer belonging to most brands. Let us come and inspect the damage so we can offer a quote. Then, we'll start the repairs and finish in the shortest time.