KitchenAid Built-In Appliance Repair Technician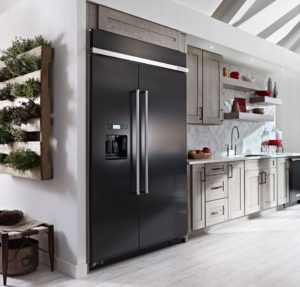 Having your freezer or refrigerator break down on you is a hassle. The discomfort it creates in the house is not small. You need to repair it right away, but who are you going to hire? JT Appliance Repair is a professional appliance repair firm that can help you quickly and efficiently. We possess deep knowledge about KitchenAid Built-In appliances, which makes us the perfect solution for you!
Why Hire JT Appliance Repair
Our company can repair your KitchenAid Built-In refrigerator the same day you call us. Every one of our technicians is manufacturer-certified to work on their products, so the quality of our work is guaranteed. Professionalism and commitment to our clients guide our every intervention. We always seek to finish our repairs quickly and efficiently, while also ensuring the optimal functionality of the end-product.
You should hire JT Appliance Repair because we possess sufficient experience in appliance repairs. For the last 25 years, we've helped countless homeowners with their faulty refrigerators and freezers. Every individual under our employ is an expert technician who knows the exact build of any fridge model. KitchenAid Built In appliances are not a secret to us!
You don't even have to wait before calling us. We work on a 24/7 basis, and we can send someone to you right away. Repairs shouldn't be delayed under any circumstances because the appliance may suffer extensive damage if overused during a malfunctioning state. Moreover, the discomfort of having a faulty refrigerator at home doesn't escape us. We're ready to repair your appliance at any time!
Locations We Service
JT Appliance Repair brings excellent repair services in many locations across Florida, including:
Ocean Ridge
West Palm Beach
Boca Raton
Palm Beach
Delray Beach
Deerfield
North Palm Beach
Lantana
Riviera Beach
Hillsboro
At your convenience, you can contact us directly to ask for a repair crew. Our technicians have ample resources and sufficient skills to diagnose a problem and fix it immediately. We will replace any broken or worn-out parts and give you a 5-year warranty on mechanical parts. This way, if the fridge breaks down again, we can replace the faulty parts for free!
We will also inform you about the benefits and cons of buying a replacement for your broken fridge. It may be impossible for our technicians to repair it due to massive damage, in which case you could purchase a new appliance. In any case, we will keep you informed of your options at all times.
Contact US
You can contact us by phone at 954-729-7320 or 561-902-4694 at any time. We're always available, so don't hesitate to give us a call. Our team can repair any model of KitchenAid Built In refrigerators in the shortest time. We not only offer a quality guarantee but we also do it in half the time other technicians take.
Our services are accessible, affordable, and quality-oriented. JT Appliance Repair can fix your appliance in no time. We bring all the necessary mechanical parts, replace busted ones, and recover your fridge's functionality. If anything breaks after fixing your appliance, our warranty applies, and you won't pay anything for a new repair!
FAQs
How fast can you respond to a situation?
After you call us, we'll send a technician to your location. Same-day repairs mean we'll fix your appliance the day you call us, without other delays.
Is it more affordable to repair an appliance rather than buy a replacement?
In most cases, repairs are less expensive than buying a new appliance. But it may not be the most practical solution. Sometimes, even repairing an appliance won't restore full functionality due to the severity of the damage.