Palm Beach DCS Freezer and Refrigerator Appliance Repair Technician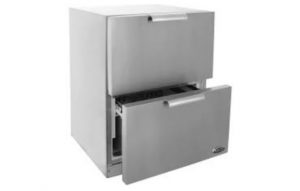 DCS is a renowned appliance brand and one of the top freezer and refrigerator manufacturers in Palm Beach. They incorporate advanced technology into their freezers and refrigerators to provide consumers with more energy efficiency and food safety.
Unfortunately, no appliance can last forever without experiencing a malfunction or worn-out component. So if your DCS freezer or refrigerator stops functioning, you can rely on the appliance repair technicians of JT Appliance Repair to fix your appliance at any time of the day or night in Palm Beach. Our urgent service is available 24 hours per day!
JT Appliance Repair has nearly 30 years of experience repairing DCS freezers, refrigerators, built-in ovens, cooktops & range tops, dishwashers, and other appliances in Palm Beach. We employ highly skilled and well-trained technicians who can assess the extent of the damage affecting your DCS appliance and then provide a fair price quote for repairing it.
Customer satisfaction is one of our top priorities. Call us at (561) 902-4694 or email us here to request a free consultation or a DCS appliance repair service in Palm Beach.
Why Hire JT Appliance Repair?

JT Appliance Repair provides in-factory training to our appliance repair technicians. As a result, they have the skills and experience to repair appliances of virtually any model or brand. Our company collaborates with dozens of top-named appliance brands to ensure we understand how to fix the latest technology and components in their newest appliances. That way, we're prepared to repair new and old DCS appliances without problems.
The benefits of hiring JT Appliance Repair include:
We Repair All Types of DCS Appliances: We can repair DCS refrigerators, freezers, cooktops, dishwashers, built-in ovens, range tops, etc.
24/7 Availability: No Palm Beach resident or business person should have to wait to get their DCS appliance repaired. That is why we offer 24-hour appliance repair services to anyone in Palm Beach. Call us anytime, and we'll send a technician to repair your DCS appliance. We can even come on weekends and during overnight hours too.
We Repair All DCS Appliances:JT Appliance Repair's technicians can repair old and new DCS appliance models. So whether you have a 20-year-old or 1-year-old DCS freezer or refrigerator, we have the proper technicians to fix it for you.
Total Transparency: Our appliance repair technicians are transparent and upfront about all service costs. We even offer free consultations with no obligation.
Best DCS Appliance Repair Technician
JT Appliance Repair is the best DCS appliance repair company in Palm Beach and South Florida. When you hire us to repair your DCS freezer or refrigerator, it will be in good hands with our skilled technicians. We employ the best technicians with the most advanced tools and components to repair all DCS appliance models quickly and efficiently. You cannot go wrong if you choose JT Appliance Repair.
Our appliance repair technicians can provide long-lasting results at an affordable price. First, we'll conduct a damage assessment, followed by a troubleshooting test. This should tell us which components are faulty and need to get replaced. We can do this with any DCS appliance model or the models from dozens of other appliance brands.
Contact
Do you need to request an emergency DCS freezer or refrigerator repair job in Palm Beach? Call us at  (561) 902-4694 or (954) 729-7320 to schedule a free consultation and appliance assessment. Alternatively, you can email us on our online contact form to submit your repair request too.
FAQs
Do you repair any other appliance brands besides DCS?
Yes, we have decades of experience repairing appliances of more than 25 brands and models. These appliances include freezers, refrigerators, ovens, stoves, walk-in freezers, air conditioners, water heaters, and coolers. We can repair marine, residential, industrial, or commercial-grade appliances too. So whatever you need, we're ready to fulfill your request.
JT Appliance Repair has fixed appliances from name brands like DCS, U-Line, Viking, Sub-Zero, Mielie, Dacor, True, KitchenAid Built-In, and many more! Please let us know your kitchen appliance's brand and model when you contact us for assistance. Then we'll have a better idea of what to expect upon our arrival at your address.
When are you available to repair my DCS appliance?
 JT Appliance Repair can send appliance repair technicians to your doorstep whenever you need us to fix your DCS appliance. If you need an emergency repair service, we can send a technician to your address on the same day you call us for help. However, you can also contact us for assistance with minor troubleshooting issues and request a non-urgent or next-day repair service.
We are open 24 hours per day, 7 days per week, to assist customers in Palm Beach. The amount of time needed to repair your DCS appliance will depend on the severity of the damage. Most repair jobs don't require more than a couple of hours for our technicians to finish them.