Palm Beach Sub-Zero Freezer and Refrigerator Appliance Repair Technician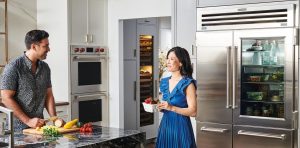 Does your home or business have a faulty Sub-Zero freezer or refrigerator in it? Sub-Zero is a fantastic appliance brand, but that doesn't mean its appliances will stay functional forever. All it takes is one or more components to fail for the entire appliance to malfunction. When this happens, you need to have a designated appliance repair company on standby to call whenever you need your Sub-Zero appliances repaired. 
JT Appliance Repair is the number one Sub-Zero freezer and refrigerator repair company in Palm Beach. We have spent over 25 years repairing freezers and refrigerators from the most popular manufacturers imaginable, including Sub-Zero. Our technicians are true veterans of the appliance repair industry, so they know the ins and outs of Sub-Zero appliance repair.
Why Hire JT Appliance Repair 
Palm Beach has many freezer and refrigerator repair companies throughout its city. If you have to pick one company, it is best to choose one with specific experience fixing appliances of the same brand as your faulty appliances. That way, you can have more reassurance in their skills and abilities to fix your particular appliances.
JT Appliance Repair can repair all Sub-Zero products, including freezers, refrigerators, built-in ovens, ranges, dishwashers, and more. We offer Sub-Zero appliance repair services that are delivered quickly and efficiently. Not only that, but our repairs will help keep your appliances functioning for many years to come.
There is no sense in spending a lot of money to replace your Sub-Zero freezers and refrigerators when they can be repaired for far less money. In many cases, a faulty Sub-Zero freezer or refrigerator will have one bad part inside of it that needs to get replaced. It is much cheaper to replace a single component than a whole appliance unit.
For this reason, you should hire JT Appliance Repair to deliver the fastest and most cost-effective Sub-Zero appliance repair solutions to you. Our technicians can have your Sub-Zero freezer or refrigerator repaired within half the time it would take other technicians. Our speed and precision on the job make us a highly sought-after appliance repair service provider in Palm Beach.
Best Sub-Zero Appliance Repair Technician 
JT Appliance Repair has the best Sub-Zero appliance repair technicians in Palm Beach. Average appliance repair technicians only have generalized knowledge of appliances and their overall technological framework. The great thing about JT Appliance Repair is that our technicians have studied the technicalities of many popular appliance brands like Sub-Zero.
As a result, our specialized knowledge of Sub-Zero appliances gives us a better chance of repairing your Sub-Zero freezers and refrigerators correctly. We understand the functionality of their internal components and how they make the overall appliance function. So it shouldn't take us very long to repair the problem after performing a brief assessment of your faulty Sub-Zero appliance. 
Contact 
Don't neglect to get your Sub-Zero freezer or refrigerator repaired. It may have a few minor components which need to get replaced. Then you can save money by not having to replace your entire appliance.
JT Appliances works quickly and efficiently on every Sub-Zero appliance repair project. We can have the functionality of your appliance restored within the same day we arrive to repair it. In fact, we can even fulfill an emergency appliance repair request on the same day you submit it.
Are you ready to get started? Call us at 954-729-7320 or 561-902-4694 to submit your appliance repair request. Then our technicians won't waste any time repairing your Sub-Zero appliance in Palm Beach.
Do you live in a different South Florida location other than Palm Beach? Well, you'll be happy to know that JT Appliance Repair can also serve residential and commercial customers in other parts of the region. Some of which include Deerfield, Hillsboro Beach, Ocean Ridge, Boca Raton, and more.
FAQs 
What are your credentials to repair freezers and refrigerators? 
JT Appliance Repair employs only qualified technicians with extensive experience repairing freezers and refrigerators of several different brands. You'll be happy to know that one of those brands is Sub-Zero. So if you have a faulty Sub-Zero freezer or refrigerator, we are more than qualified to repair it quickly.
We have factory-certified technicians at JT Appliance Repair. This certification shows that our technicians have undergone all the required training, education, and licensing needed to restore appliances to their factory conditions. We have helped hundreds of customers restore their Sub-Zero freezers and refrigerators to their factory conditions.
Are you able to repair all Sub-Zero models? 
JT Appliance Repairs has highly trained technicians who know how to repair old and new Sub-Zero models of freezers and refrigerators. Therefore, it doesn't matter if you have a Sub-Zero appliance that is ten years old or two years old because we can repair them all. You will save so much money that way.