North Palm Beach Viking Freezer and Refrigerator Appliance Repair Technician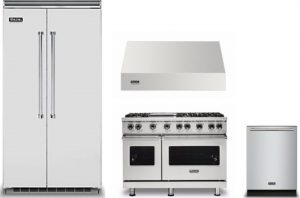 The Viking brand is highly popular in the business, but no product is perfect. Appliances will sometimes malfunction and break, in which case you need to start looking for solutions. That's where our team comes in. We have one of the best team of technicians in the industry and we have served our community for over 40 years.
Also, you no longer need to run between providers, depending on what type of appliance you need fixing. We can cover the entire pool of products, no matter the type, brand, or production year.
Why Hire JT Appliance Repair?
We know what you want. You want fast, cheap, and reliable services. You want your appliance repaired as fast as possible, within your budget, and you want guarantees of a job well done. But what does our team offer in terms of quality and specific services?
Impressive Brand Coverage – Although they're part of the same category, the same type of appliances can come with specific features, depending on the brand. This may confuse some appliance technicians who are not exactly savvy in some brands, compared to others. That's not the case with our team, as we cover an impressive array of brands, including Viking, DCS, Dacor, U-Line, Scotsman, and many others.
Outstanding Experience – We've been in the business since 1984, which is to say there's nothing we haven't seen, fixed, and dealt with. No matter the issue you're facing, rest assured our team will handle it fast and effectively.
Emergency Option – Some appliances are vital and you cannot afford to go 2 or 3 days or even one day without them. Don't worry, we got you covered. You can call us any time, even in the middle of the night, and tag your request as urgent. Our team will be at your doorstep ASAP and our issue will be fixed within 24 hours or less.
You can contact our team at 954-729-7320 or 561-902-4694 for additional info or if you want to report a problem.
Best Viking Appliance Repair Technician
If you live in North Palm Beach or the surrounding area, looking for the best Viking appliance technician will bring you to our doorstep. Why? That's easy – because we are the best. We rely on affordable and high-quality services to attract and keep clients because what's more appealing than a cheap and well-done job?
Keep in mind that Viking appliances in general have unique designs, which means that not all appliance technicians can handle them. You need someone knowledgeable to manage them properly. Which is why you want to hire us to repair your Viking freezer or refrigerator. Our team is knowledgeable and proficient, which is to say there's no job we can't handle. This is especially important when it comes to freezers and refrigerators, as these are some of the most important appliances in one's home.
Contact
You can reach JT Appliance Repair at 954-729-7320 or 561-902-4694 if you want to place a request or simply wish to learn more about our services. Our technician will take your call immediately.
FAQ
Do You Repair All DCS Products?
Yes, we do. Our technicians are proficient in a multitude of services and can handle any type of appliance. JT Appliances works with the most experienced professionals in the business, so expect nothing but excellence. We can handle anything, including, but not limited to, built-in ovens, cooktops, rangetops, dishwashers, freezers, and many others.
If you have a more advanced or a newer product that other technicians haven't been able to handle, give us a call. We'll have one of our professionals look at it to give you a verdict. Our 40 years of experience allows us to take on pretty much any job and complete it with the same professionalism. We know how important quality of service and timely delivery are to our clients, so you can rely on our work ethics.
In What Areas Do You Operate?
North Palm Beach is one of the many areas where you can find us. You can reach JT Appliance Repair in Boca Raton, Lantana, North Palm Beach, Lake Park, Palm Springs, Delray Beach, and many other locations. If you want to see the entire list, check our website or call us directly.
You can also speak to one of our technicians if you're interested in learning about our services and see whether we're right for the job. We can have one of our professionals at your doorstep immediately if you require urgent assistance. Most importantly, we are always expanding and looking for avenues to reach even more clients across the country.
So, if we're not in your area yet, we might be soon. Fortunately, we already operate in numerous states across the US, so you won't have a hard time finding us. Call today at 954-729-7320 or 561-902-4694, showcase your issue, and we'll find a solution together.