GE Monogram Appliance Repair Technician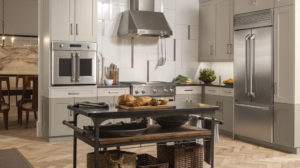 When your refrigerator or range breaks down and your warranty has run out, you know it's time to contact a specialized technician. Household appliances constitute serious repair jobs, as any malfunction can be a real danger. You can't afford to get an improvised repair job when we're talking about large appliances that run 24/7. Any short-circuiting or gas leak could trigger a major accident.
If you find yourself in this situation, choosing a professional technician could seem a daunting task. With not much time to waste, you might not be able to thoroughly research your options. However, finding a great technician doesn't have to be difficult. If you live in South Florida, you can always contact JT Appliance Repair for professional, same-day repair services.
Why Hire JT Appliance Repair
We have 25 years of experience with residential and industrial appliance repairs. Our technicians are highly specialized in fixing a wide range of household and industrial-grade devices, irrespective of model or brand. Our team is well-prepared to tackle any repair job, including refrigerators, stoves, ovens, washing machines, water heaters, air conditioners, coolers, and more!
We work in direct partnership with major appliance brands, so we're always up to date with the newest technology on the market. If you need quick, professional fixing for any GE Monogram appliances, we'd be glad to assist you. We run 24/7 and offer emergency repairs for any type of device, no matter how large or complex.
Our team of technicians is also factory-certified to perform repairs on any GE Monogram appliance, including ranges, dishwashers, refrigerators, ovens, microwaves, range hoods, ice machines, and heaters, among many more.
We're always upfront about repair costs and damage estimates, so you won't have to worry about hidden fees and another unexpected spending. We offer quality services at affordable prices, and we give our clients up to 5 years' warranty on mechanical parts. You can contact us for small projects or emergency repairs, and we'll always be there in time.
Locations We Service
We cover multiple locations throughout South Florida. Our team helps clients in West Palm Beach, Boca Raton, Palm Beach, Delray Beach, Deerfield, North Palm Beach, Riviera Beach, Lantana, Ocean Ridge, and Hillsboro Beach.
If you live in any of these areas, you can contact us for the best 24/7 professional repair services in the state. We'll arrive in the shortest time possible, and we'll work quickly and efficiently so that you can get your appliances up and running on the same day.
Contact Us
If you want to hire us or have any additional questions, feel free to contact us at 954-729-7320 or 561-902-4694. We work non-stop to service our clients, and there's always somebody to pick up your call no matter the time of day.
We offer a rapid response and friendly, professional customer service. We always listen to our client's concerns and inquiries, and we strive to maintain open professional communication. Whenever you need emergency repairs, we'll prioritize your case and our technicians will reach you in record time.
FAQs
Do you fix walk-in freezers?
Absolutely! There's virtually no type of refrigerator that our team cannot fix. Whether we're talking about free-standing, side-by-side, built-in, full-with, and yes, even walk-in, we got you covered. We're experienced in repairing brands such as GE Monogram, Sub-Zero, Frigidaire, Bosch, Scotsman, Viking, U-Line, Dacor, Westinghouse, and more.
What if I don't know the cause of the damage?
Even if your appliance is obviously not working properly, you may not always be able to pinpoint the reason why. This won't be a problem. We always thoroughly analyze any malfunctioning appliance on the spot.
Our technicians will walk you through the entire investigation and they'll communicate the source of the problem and the extent of the damage. Once we figure out what's wrong, we'll begin working on the issue.