JT Appliance Repair Riviera Beach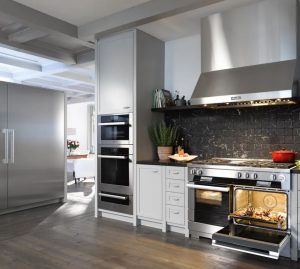 Appliances don't stay functional for very long. In fact, the newest appliances on the market don't last nearly as long as the older appliances did back in the day. Perhaps this is because modern appliances are made with cheaper parts and rushed off the assembly line more quickly. As a result, you're more likely to have frequent issues with typical household and commercial appliances.
Why Hire JT Appliance Repair? 
JT Appliance Repair is a trusted and dependable appliance repair company in Riviera Beach. We have spent the last 25 years building a reputation of trust and respect amongst the property owners in the community. People know that whenever their appliances stop working correctly, they can call JT Appliance Repair to repair their problem quickly and efficiently. Our high rate of customer satisfaction is unmatched by any other company in the city.
We can service the following appliances:
Ranges
Gas-based appliances
Water heaters
Ice machines
Air conditioners
Washers
Dryers
Walk-in Freezers
Refrigerators
Dishwashers
And more!
JT Appliance Repair can repair commercial and residential appliances. It could be a new or old appliance of any shape and size. Our technicians are specially trained to repair and restore the most commonly used appliances in South Florida. There's no job that we cannot handle.
Brands JT Appliance Repair Service 
What is the brand of your faulty appliance? JT Appliance Repair has the knowledge and capability of servicing and repairing appliances from over 25 of the most prominent brands on the market. These brands include:
Mielie
Dacor
DCS
True
Sub-Zero
Viking
KitchenAid
GE Monogram
U-Line
Scottsman
JT Appliance Repair is a team-based company. To satisfy our customers, we have a collaborative team effort between customer service representatives, parts specialists, and skilled technicians. We all work together to develop viable solutions for repairing our customers' appliances swiftly and professionally.
Contact 
JT Appliance Repair is the leading repair specialist of name-brand appliances in the Riviera Beach area. If you'd like to learn more about our qualifications and services, please call our office at (561) 902-4694. One of our repair technicians will be happy to discuss your appliance problem for free. You will be under no obligation to proceed after your initial consultation. But if you'd like to proceed, we'll work quickly to restore your appliance to normal. 
FAQs 
1) Can you repair any type of appliance? 
JT Appliance Repair is the leading expert in appliance repair services. Our technicians have the capability of repairing almost any appliance imaginable. We can repair refrigerators, freezers, water heaters, gas appliances, ice machines, ovens, and more. The age and brand of the appliances don't matter either.
We have experience in repairing appliances from over 25 different name brands on the market. Even if the brand of your particular appliance no longer exists, we are still willing to take a look at it anyway. Just contact us for a free consultation to find out more information about our capabilities.
2) How long will it take for you to repair my appliance? 
When potential customers call us to submit their repair request, we give them three different speed options for our services: Same Day, Next Day, or Not Urgent. You can choose whichever speed option is most convenient for your needs.
If you have an emergency and need your appliance fixed immediately, you should choose the same-day emergency service. We will have a technician come to your property within the hour to help you out. Otherwise, you can select the Next Day or Not Urgent speed options for a longer delivery at discounted service rate. The price rates will be discussed with you during your free consultation with our customer service representatives.