Palm Beach U-Line Freezer and Refrigerator Appliance Repair Technician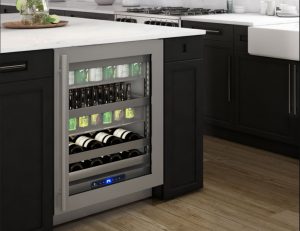 U-Line appliances cost a lot of money to purchase and replace. So why waste thousands of dollars buying a new U-Line appliance when you can pay a fraction of that cost to repair it?
JT Appliance Repair is the leading expert in repairing broken U-Line freezers and refrigerators in the city of Palm Beach, Florida. We could potentially extend the life of your U-Line appliance by several more years, saving you hundreds or even thousands of dollars in replacement costs.
Many broken U-Line appliances only have one or two internal components that need replacement. Our experienced U-Line appliance repair technicians can identify the faulty components within your appliance and replace them immediately. We come with an inventory of spare U-Line appliance parts and components to complete the repair job on the first visit.
Would you like to submit your U-Line appliance repair request in Palm Beach? If so, you can reach our elite customer service team at 954-729-7320 or 561-902-4694.
Why Hire JT Appliance Repair
Several general appliance repair companies are located all over Palm Beach. But if you want an appliance repair company with experience repairing U-Line appliances, you should contact JT Appliance Repair.
We have factory-certified appliance repair specialists who have studied the technological inner workings of U-Line freezers, refrigerators, and other appliances. Our in-depth knowledge of U-Line appliances gives us the best chance of repairing them successfully.
Here are the kinds of U-Line products that we can repair:
Freezers
Refrigerators
Built-in Ovens
Cooktops & Ranges
Dishwashers
And more!
JT Appliance Repair has repaired appliances for over 25 years in Palm Beach. Within that time, we have worked with over 25 appliance brands. They include GE Monogram, KitchenAid Built-In, Viking, Sub-Zero, DCS, Dacor, Mielie, and True. So whether you have a U-Line appliance or another branded appliance, we have the knowledge and experience to repair it successfully. 
Contact us at 954-729-7320 or 561-902-4694 if you have any questions.
Best U-Line Appliance Repair Technician
Many Palm Beach residents and business owners consider JT Appliance Repair the best U-Line appliance repair company in the city. We can perform the repairs 24 hours per day at any location in Palm Beach or one of the other cities in South Florida. You will be more than impressed with our quick response time and service delivery.
You will enjoy the following benefits when choosing JT Appliance Repair in Palm Beach:
Experience – JT Appliance is one of the few Palm Beach appliance repair companies with more than 25 years of experience. We have repaired appliances from over 25 brands and achieved satisfactory results each time.
Excellent Customer Service – You will enjoy exemplary customer service from our technicians and staff. We respond to service requests quickly and strive to deliver high-quality results on every service call.
Same Day Service – You don't have to schedule an appointment for a different day if you need emergency appliance repair services. JT Appliance Repair can come out to your location in Palm Beach on the same day to repair your appliances.
Professional – All our appliance repair technicians must uphold tough moral and ethical standards whenever they serve our customers. That way, we can solve our customers' problems every time they come to us for assistance with their appliances.
Now, do you see why JT Appliance repair is the best choice in Palm Beach? We have technicians on standby 24/7 who are waiting to assist all regional customers.
Contact
Are you looking for cost-effective and professional U-Line appliance repair services? Contact JT Appliance Repair to request a same-day repair service by calling us at 954–729-7320 or 561-902-4694.
FAQs
What other locations do you serve besides Palm Beach?
JT Appliance Repair serves most of the major towns and cities of South Florida. These areas include West Palm Beach, Boca Raton, Delray Beach, Deerfield Beach, Riveria Beach, Lantana, Ocean Ridge, Palm Springs, Lake Worth, Manalapan, and numerous other regional areas.
Would you like to know whether we serve your particular location? Contact our customer support team at 954-729-7320 or 561-902-4694 for more information on our service areas. Our appliance repair company has expanded its service area throughout the last 25 years due to its success in the region. As a result, we are confident you will enjoy the quality and affordability of our appliance repair services.
Do you have the proper credentials to perform appliance repairs in Palm Beach?
Yes, all of the technicians at JT Appliance Repair have the necessary licenses and certifications needed to perform appliance repair jobs in Palm Beach and South Florida.
In addition, our technicians have received their factory certifications for repairing U-Line appliances, which means we know how to restore U-Line appliances to their factory condition. Then you can have the confidence knowing that our repair work will allow your U-Line freezer or refrigerator to last a long time.