Deerfield KitchenAid Freezer and Refrigerator Appliance Repair Technician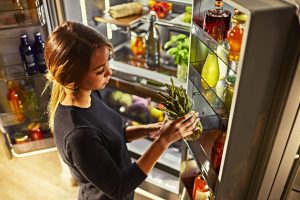 Home and commercial appliances have a relatively short lifespan. You never know when your KitchenAid freezer or refrigerator will malfunction unexpectedly. Perhaps your freezer will lose its ability to freeze foods. Maybe your refrigerator will lack the ability to cool foods. If these situations occur with your appliances, you should act fast to overcome them and avoid more costly repairs down the road.
JT Appliance Repair is one of the few professional appliance repair technicians offering 24-hour services in Deerfield. We have experience working with many different appliance brands and models. For this reason, we are confident that we can work with your KitchenAid freezer and refrigerator without any problems.
Why Hire JT Appliance Repair
There are many good reasons to hire JT Appliance Repair. How many other companies have technicians with more than two decades of experience fixing appliances from over 25 brands? That is a record you won't find with too many other appliance repair companies in Deerfield.
Furthermore, we offer some fantastic benefits along with our services. These benefits include professionalism, fast service delivery, complete transparency, and total commitment to our customers. Now wouldn't it be great if every company upheld these values?
JT Appliance Repair is a professional appliance repair company that guarantees the quality of its services. We can repair any KitchenAid appliance within the same day you call us for assistance. Our rapid response time is reserved for people who have appliance emergencies. But if your appliance issue is not an emergency, you can schedule a standard service call for a reduced price.
There are never any hidden clauses or fees when you obtain our services. You will only have to pay for the repair costs themselves and nothing more. First, our technician will examine your appliance to determine the extent of the repairs needed. Then, they will present you with an estimated price for the service. We will never overestimate the cost.
Best KitchenAid Appliance Repair Technician
JT Appliance Repair doesn't just employ ordinary appliance repair technicians. Instead, we employ some of the best appliance repair technicians in the industry. Our technicians can repair appliance models from KitchenAid and several other appliance brands, including GE Monogram, U-Line, Bosch, Sub-Zero, True, DCS and Dacor. Since we have repaired most appliance brands, our service repair package covers them all.
You don't necessarily have to limit yourself to freezer and refrigerator repair requests. Our technicians can also repair the following types of KitchenAid appliance products:
Freezers
Refrigerators
Coolers
Garbage Disposals
Built-In Ovens
Dryers
Water Heaters
Ice Machines
Cooktops / Rangetops
Dishwashers
JT Appliance Repair employs veteran appliance repair technicians who have seen it all and done it all. We have repaired all kinds of appliance problems from every brand imaginable. And before we ever give you a price quote on our repair services, we'll guarantee the effectiveness of our repair abilities.  
Of course, if we determine that your appliance cannot be repaired because it is too old or damaged, we will let you know upfront after the inspection is completed. That way, you won't have to waste money on needless repair work that won't do anything to help. How many other companies would be that honest and upfront with you?
Contact
Do you have a KitchenAid freezer or refrigerator issue in Deerfield? You can contact us at 954-729-7320 or 561-902-4694 to discuss the details of your problem. Then you can schedule a time for our appliance repair technicians to come and examine your appliance. That is when you will receive the estimated repair costs and any other information you need to know.
We operate on a 24-hour basis throughout Deerfield. Our technicians are on standby day and night, ready to serve the residents and business owners of the city by resolving their KitchenAid appliance issues on the same day they arise.
FAQs
Do you offer any warranties on your repair services? 
Yes, we offer five-year warranties on our KitchenAid appliance repair jobs. So if your appliance ever breaks down within five years after we repair it because of the new components we installed, we will come back and replace those components free of charge.
The warranty is offered because we are confident in the quality of our services. We want to give our customers peace of mind knowing they can trust our technicians to do the job right the first time out. But if the appliance still doesn't work within five years afterward, you can request our services again for free. That is a reasonable deal that anyone can appreciate.
Do you repair walk-in freezers? 
JT Appliance Repair repairs all types and models of walk-in freezers, whether made for domestic or commercial use. So, if your walk-in freezer is not doing a good enough job freezing food products, we urge you to call our customer support line immediately for assistance. We'll get to the bottom of the problem and repair it quickly.