Deerfield U-Line Freezer and Refrigerator Appliance Repair Technician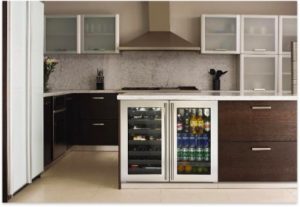 U-Line appliances are known for their quality design and functionality. But like all good appliances, U-Line appliances don't last forever. You never know when your U-Line freezer or refrigerator will break down and require fixing. Perhaps the freeze or cool settings will malfunction and provide too much or too little coolness.
Either way, you'll need to contact a professional and dependable U-Line appliance repair company to address the issue immediately. Not only will this save you money on replacing the appliance, but it will also save you money on replacing the food as well.
JT Appliance Repair operates an appliance repair company in Deerfield Beach on a 24-hour basis. We can repair U-Line-branded appliances and more than 25 other appliance brands. That is why we are the best appliance repair service provider in the city. 
Request our services today at 954-729-7320 or 561-902-4694.
Why Hire JT Appliance Repair
Has your U-Line refrigerator or freezer stopped working? If so, you don't have to wonder who you're going to call to fix it in Deerfield Beach.
JT Appliance Repair is one of the most reputable and established appliance repair companies in Deerfield Beach and the rest of South Florida. Our technicians have the necessary training, experience, skills, and tools to repair all U-Line appliance models.
In addition, we can repair the appliances of more than 25 well-known brand names. These names include:
Sub-Zero
Scottsman
Mielie
Dacor
KitchenAid Built-In
True
DCS
GE Monogram
Bosch
We have worked with every major appliance brand in the country. If you'd like to verify whether we can fix your particular branded appliance, let us know the brand and model of your specific appliance when you contact us. We can tell you right over the phone if we are familiar with it.
Best U-Line Appliance Repair Technician
JT Appliance Repair employs veteran appliance repairmen to serve our customers in Deerfield Beach. We have fixed every type of appliance problem imaginable, so there is nothing we haven't seen before. Our appliance repair technicians are some of the best in the industry, especially when repairing U-Line appliances.
Here is what you can expect when hiring JT Appliance Repair:
Expert Repairmen – JT Appliance Repair has factory-certified repairmen who have undergone training in U-Line appliance repair. We understand the inner workings of these appliances better than any other company in Deerfield Beach.
Fast Service Delivery – There is no need to make an appointment and wait for our services. JT Appliance Repair offers a same-day appliance repair service to address your appliance emergency on the same day you call us for assistance.
Complete Transparency – JT Appliance Repair offers complete transparency and honesty on every transaction. We will tell you a fair and honest price estimate when you contact us for assistance. We will never add hidden fees or charges to the price after the repair work is finished.
24/7 Operation – JT Appliance Repair offers a 24/7 appliance repair service to businesses and residents throughout Deerfield Beach and South Florida. Feel free to contact us at any hour of the day or night to request assistance with your faulty appliance.
Don't remain crippled because of a broken U-Line appliance. You have the power to contact us for assistance right away in Deerfield Beach. We won't waste any time helping you out in this emergency regarding your appliance.
Contact
There are a limited number of reliable U-Line appliance repair companies in Deerfield Beach. JT Appliance Repair is the best U-Line appliance repair company because we have factory-certified technicians with specialized training in repairing U-Line appliances. We can repair any U-Line appliance, such as a freezer, refrigerator, washer, dryer, dishwasher, water heater, ice machine, etc.
If you need to submit an emergency repair service request, contact our team at 954-729-7320 or 561-902-4694. Our technician will evaluate the faulty appliance to locate the cause of the problem and then provide you with an estimated cost to fix it. You should be able to resume using your appliance after our first visit. 
FAQs
Do you repair walk-in freezers?
Yes, our appliance repair technicians can also fix walk-in freezers in Deerfield Beach. It doesn't matter what brand or manufacturer is associated with the walk-in freezer because we are familiar with the inner workings of most walk-in freezer brands.
The first thing we will do is evaluate the damage or malfunction associated with your walk-in freezer. If we can locate the particular component causing the problems, we can proceed to remove and replace it immediately. Remember that we come equipped with all our own parts and accessories.
Do you repair U-Line appliances for businesses and commercial environments?
Yes, we are happy to serve both businesses and residents of Deerfield Beach. So if you own a commercial establishment with a faulty U-Line appliance, you can call us anytime to request a repair service. One of our qualified technicians will come to your business with the necessary tools and parts to make the repairs.