West Palm Beach KitchenAid Freezer and Refrigerator Appliance Repair Technician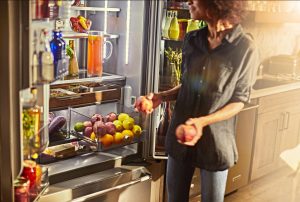 Faulty appliances can create an annoying and challenging situation rather than a minor temporary inconvenience. For instance, many people depend on their KitchenAid refrigerator, freezer, and other appliances to assist them with their daily duties and responsibilities. So if one or more of those appliances were to malfunction, it would cause a lot of problems for people until they get them fixed.
Do you need a KitchenAid freezer or refrigerator repair in West Palm Beach? If so, don't wait too long to request a repair service because the issues with your appliance could escalate if they don't get resolved quickly. Then you could be looking at more repair expenses or possibly an entire replacement expense.
JT Appliances offers emergency appliance repair services on a 24-hour basis in West Palm Beach. So it doesn't matter when your appliance breaks down because you can always call us to get it repaired at any time of the day or night. The sooner you call us for help, the less expensive it will be to make the repairs.
Why Hire JT Appliance Repair
Do you need professional KitchenAid appliance repair services urgently in West Palm Beach? JT Appliance Repair is always happy to provide fast and affordable repair services to all local residents and business people. It doesn't matter if you have marine, residential, or commercial appliances because we are fully ready and able to repair any KitchenAid appliance. We can even fix big or small problems with the appliance.
JT Appliance Repair has the skills and tools to repair many different types of KitchenAid appliances, such as:
Coolers
Freezers
Refrigerators
Built-In Ovens
Water Heaters
Cooktops / Rangetops
Garbage Disposals
Dishwashers
Many of these repair jobs require us to replace vital mechanical components inside the appliances. If we end up replacing any of your appliance's components with new ones, we will provide you with an automatic five-year warranty on the service. So if any of the new components malfunction within five years of their installation, you can have us come back and replace them free of charge. 
Best KitchenAid Appliance Repair Technician
JT Appliance Repair does not charge our customers any hidden fees or service charges. We believe in upholding the highest levels of integrity and honesty regarding our business practices. You will realize that very quickly once you see our technicians in action.
Our highly qualified technicians continue to receive training and education on the latest developments in appliance technology. That way, we can ensure that our technicians have the proper skills to repair newer appliances with more sophisticated features. It is just one more way we try to please our customers. Your satisfaction is what we aim to achieve on every service call.
Contact
Are you ready to submit a standard or emergency appliance repair request in West Palm Beach? You can contact us at 954-729-7320 or 561-902-4694 if you reside in West Palm Beach or any of its surrounding South Florida cities. Some of these cities include Palm Beach, Palm Springs, Delray Beach, Boca Raton, Lantana, Ocean Ridge, and Riveria Beach.
Remember that our services are readily available 24 hours per day in West Palm Beach. That means we are always here to assist customers with their KitchenAid appliance problems. We have a professional and friendly customer service team that takes calls day and night throughout the city. You won't have to wait long for help to arrive once the service request is made.
FAQs
Can I get my appliance repaired if the brand is not KitchenAid? 
KitchenAid appliances are not the only branded appliances we can repair in West Palm Beach. We can also repair appliances from more than 25 brands, including Bosch, Gibson, Jenn-Air, Dacor, True, DCS, Mielie, GE Monogram, Viking, Westinghouse, Sears, and Sub-Zero.
Since we have over 25 years of experience repairing appliances, our technicians have worked with many different brands. So if you don't see your brand on the list above, let us know which brand you have when you call our customer support team. We'll be happy to let you know whether we can repair your particular branded appliance.
Is it better to repair or replace my KitchenAid appliance? 
JT Appliance Repair recommends repairing your KitchenAid appliance whenever possible. Of course, there are some circumstances where you'll have no choice but to replace your appliance. However, it would help if you allowed our qualified technicians to inspect your appliance before you decide to replace it. An inspection is the best way to determine if your appliance can be salvaged or not.
Repairs are always cheaper than a replacement. JT Appliance Repair offers affordable prices on our spare parts, components, and labor costs. As a result, you will save more money hiring our appliance repair technicians than you would if you paid for an entirely new appliance.