West Palm Beach DACOR Freezer and Refrigerator Appliance Repair Technician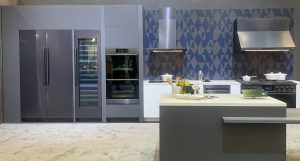 Are you in need of premium repair services for DACOR appliances in West Palm Beach? Are you looking for factory-certified technicians to work on your appliances? JT Appliance Repairs is the best repair company in West Palm Beach. With over 25 years of experience in the industry, there's nothing we haven't seen. We're familiar with all the DACOR freezer and refrigerator models, and we know how to fix them all.
More importantly, all our technicians are factory-certified, so your warranty won't become void if we work on your appliance. With same-day repairs, you'll often get your appliance back in a few hours. Because that's how much we care about the wellbeing of our clients!
Why Hire JT Appliance Repair
DACOR freezer and refrigerators are the best in the business. We have extensive knowledge with all DACOR products, including:
Freezers
Refrigerators
Built-in ovens
Cooktops
Rangetops
Dishwashers
And more…
In other words, there's no DACOR product we can't repair. Most importantly, you don't need any paperwork and there are no delays either. Once you call us, we'll send a technician to your home. They'll inspect the appliance, give you an offer, and being the repairs immediately. We'll have your appliance functional again on the same day, in a few hours even.
We're committed to offering a premium service package to all our clients, which is why our team is always thorough and operates excellently. Once we repair something, it stays repaired. You won't have to deal with unexpected issues caused by faulty and inattentive repairs like in the case of other repair companies.
JT Appliance Repair guarantees full satisfaction with our repairs. So, don't hesitate to contact us if and when you need us. Our customer support team is always available and will answer all your questions in West Palm Beach!
Best DACOR Appliance Repair Technician
We understand that it's hard to decide on a repair firm to take care of your DACOR appliance. They're expensive pieces of machinery and you wouldn't want them to fall on the wrong hands. Thankfully, JT Appliance Repairs has over 25 years of experience in the field. All our technicians are factory-certified, and we offer a 100% satisfaction guarantee with our repair services.
We've been repairing DACOR appliances in West Palm Beach for almost 30 years, so this makes us one of the oldest repair firms in the city. We also provide services in:
Boca Raton
Palm Beach
Delray Beach
Deerfield
Lantana
North Palm Beach
Hillsboro Beach
Riviera Beach
Ocean Ridge
High-quality repair services are hard to come by, but JT Appliance Repair is always here to lend a hand. If you need a quick fix or an ample repair done on a DACOR freezer or cooktop, don't hesitate to give us a call. Our technicians will be at your door within the hour, checking up on your appliance and repairing it in no time. DACOR appliance malfunctions are not uncommon but we can fix them for you in double time.
Appliances can go through any number of issues thanks to faulty components or usage. Short-circuits, gas leaks, any one of these can render the appliance useless. This is a major discomfort to anyone, and our team is quick to remedy that. Contact us as soon as your DACOR freezer is acting up so we can repair it faster and you can get back to your daily life sooner!
Contact
Reliability and professionalism are hard to come by these days, we understand that. JT Appliance Repairs has a solid reputation in West Palm Beach, and we've served this community for a long time. Many appliance faults are never just one-time issues, unfortunately, but we're always here to serve. Whenever you need help, our technicians are on hand.
Give us a call at 954-729-7320 or 561-902-4694 or through our contact form for more information or a free consultation about your broken DACOR appliance!
FAQs
Do you repair walk-in DACOR freezers?
Sure, we do! Our team can fix all manner of freezers and refrigerators from DACOR. It doesn't matter if they're free-standing, built-in, walk-in, or even side-by-side. Old or new, your freezer is in good hands. We've fixed many models from Bosch, Scotsman, DACOR, Sub-Zero, GE Monogram, and others. You're safe with us!
Do you offer same-day repair services?
Absolutely! Same-day repair servicing is one of the hallmarks of our business. JT Appliance Repair technicians almost always manage to fix appliances on the same day you contact us. Once we identify the source of the malfunction, we'll give you a repair timetable and let you know what to expect.
If the extent of the damage is worse than expected, it might take a couple of days, especially if the necessary components are hard to come by. But usually, it only takes a couple of hours to finish a DACOR repair in West Palm Beach!