Ocean Ridge Sub-Zero Freezer and Refrigerator Appliance Repair Technician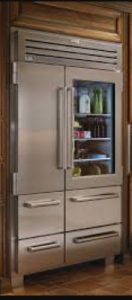 Do you need help with your Sub-Zero freezer or refrigerator because it broke down? JT Appliance Repair has your back! We're the best appliance repair crew in Ocean Ridge, and we can repair your Sub-Zero quicker than anyone else. Our technicians are very experienced with this brand, and they'll be able to fix any issue they encounter. We offer 100% client satisfaction on all our repairs in Ocean Ridge!
If you're worried that your Sub-Zero is not working correctly, why not call us to check for you? In most cases, a component needs replacing, and we can do that in a couple of minutes. We'll be done in no time, and you can return to your normal lifestyle with a fully functional fridge.
Call us at (561) 902-4694 or (954) 729-7320 for a free consultation. You can also use our contact page to send us a message!
Why Hire JT Appliance Repair?
JT Appliance Repair is available 24/7, Mondays through Sundays, at all times. Just call us, explain what's wrong with your Sub-Zero fridge, and we'll send someone down to check it. Every technician under our employ is very familiar with both old and new Sub-Zero models, so we guarantee quality repairs. In most cases, we can repair the appliance the same day you call us, so you don't have to live with the discomfort more than you should.
If something happens after our technician repairs your Sub-Zero, call us. We'll take full responsibility and restore your fridge back to top shape free of charge. Fortunately, this hasn't happened to us in the 35 years we've been doing this. We focus on quality repairs and long-term functionality because we care about reputation. No shoddy repairs, no short-term restoration, and no over-the-top repair fees.
If you hire JT Appliance Repair, you get the following benefits:
Professional Repairs: All our technicians are certified to work on Sub-Zero freezers and refrigerators. You'll be 100% satisfied with the work we do on your appliance;
We Fix all Sub-Zero Products: Freezers and refrigerators, both old models and new ones, we can fix them all with no issues. Call us immediately if you need help with your Sub-Zero!
24/7 Availability: You can call us on a weekday or weekend. Let us know when you need your Sub-Zero repaired, and we'll help you immediately!
Affordable Repairs: JT Appliance Repairs has the most affordable repair services in Ocean Ridge. Try us!
It's not often that your freezer or refrigerator needs repair, but it may be something serious when it does. The damage could worsen if you don't get help immediately. Don't hesitate to call us when you need repair services for your fridge! JT Appliance Repair is just a phone call away, and our technicians are all familiar with Sub-Zero appliances.
Best Sub-Zero Appliance Repair Technician
We've been repairing home appliances for over 35 years, so we know what we're doing. JT Appliance Repair is the oldest appliance repair company in Ocean Ridge and all of South Florida. We're still around because we only hire experienced technicians and focus on quality above all else. Our client's satisfaction is most important to us, and we treat their appliances like we would our own.
Our technician takes care to restore your freezer's functionality for the long term. We wouldn't want shoddy repairs done on our own fridges, so we offer the same courtesy to you. Regardless of the problem, we're confident we can repair your Sub-Zero to full functionality in the shortest time. If there's nothing we can do, we'll tell you beforehand.
Contact
You can call us at (561) 902-4694 or (954) 729-7320 for repair services in Ocean Ridge. We'll be at your door in a few hours at most to check your fridge. Your Sub-Zero is safe with us; we guarantee that!
FAQ
How long does it take to fix my Sub-Zero freezer?
First, we'll need to investigate your Sub-Zero appliance to see what's wrong. Our technicians are very familiar with how Sub-Zero freezers and refrigerators work, so we'll know how to fix them. Once we identify the problem, we'll get started immediately. If the problem is more extensive, it may take a couple of days, but in most cases, it only takes a few hours.
What other brands do you repair besides Sub-Zero?
We repair several other appliance brands, including U-Line, Viking, KitchenAid, True, Miele, Dacor, DCS, GE Monogram, and others. Whenever you need help repairing one of these brands, call JT Appliance Repair. We have over 35 years of experience in the appliance repair business, so we're one of the best.
Don't hesitate to contact us immediately if you notice strange behaviors in your freezer or refrigerator. We offer 24/7 repair services in Ocean Ridge, so you can call us whenever!