JT Appliance Repair Lake Worth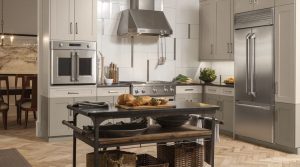 Remember the times when appliances used to last for 10 or 20 years without any problems? Nowadays, you'll be lucky if a new appliance stays functional for a couple of years without any problems. Modern appliances are not made with the same degree of quality as older appliances. That is why the demand for professional appliance repair services has never been greater in Lake Worth.
Why Hire JT Appliance Repair
JT Appliance is a premier domestic and commercial appliance repair company in Lake Worth. We have accumulated a substantial track record of positive customer feedback in the community because of our dedication to delivering quality results to our customers. Our technicians have the proper licenses, educational background, and experience to repair the most common appliances owned in Lake Worth. These appliances include the following:
Ranges
Water heaters
Ice machines
Walk-in Freezers
Refrigerators
Air conditioners
Washers
Dryers
Dishwashers
Gas-based appliances
And more!
Our 25+ years of experience make us one of the most in-demand appliance repair companies in South Florida. We have the equipment, knowledge, and tools to repair commercial, domestic, and marine appliances of any size or shape. Also, the age of your appliances won't matter either because we repair new and old appliances.  
Brands JT Appliance Service
Certain brands design their appliances differently. JT Appliance has worked on more than 25 different appliance brands over the years we've been in business. Our technicians are confident in their ability to repair the most common appliance brands used in homes and businesses today. These brands include:
Scottsman
Mielie
Dacor
Sub-Zero
Viking
KitchenAid Built-In
GE Monogram
U-Line
DCS
True
And more
We work as a team at JT Appliance. Our company includes professionals in various fields, including trained technicians, parts specialists, and customer support representatives. When our customers have an appliance problem, our team works together to solve it quickly and efficiently.
Contact
JT Appliance Repair is the best choice for appliance repair services in Lake Worth. We have a dedicated team of professionals who prioritize customer service above everything else. So if you have an appliance problem that needs to get fixed promptly, you can rely on our technicians to handle the job.
Schedule your appointment today by calling our team at (561) 902-4694. You will receive a free consultation without any commitment until you're ready to proceed with the actual repair service.
FAQs
1) Can you repair my appliance on the same day I call for assistance? 
We offer customers the option to request an emergency appliance repair service if needed. An emergency service request will get fulfilled within the same day it is submitted. Just let our customer support representative know that your appliance issue is an emergency situation. We'll dispatch the closest professional appliance repair technician to your address in Lake Worth. The technician should arrive within the hour after you make the call.
Alternatively, you can request a non-emergency repair service request too. The estimated price will be slightly lower, and the service will get fulfilled either the next day or sometime during the week. You can choose between Next-Day and Not Urgent for non-emergency requests.
2) Can you repair all types of appliances? 
Our technicians can repair the most common appliances in homes and businesses, such as refrigerators, ice machines, water heaters, ovens, and freezers. If you have an unusual appliance that needs fixing, let us know over the phone. That way, our technicians will have some idea of what to expect upon their arrival at your property. Since we have over 25 years of experience repairing commercial and domestic appliances, we should be able to fix your particular appliances too.