Lantana Sub-Zero Freezer and Refrigerator Appliance Repair Technician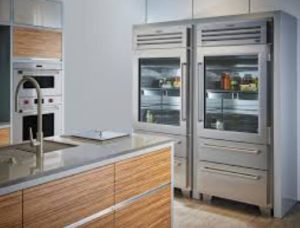 Are you having issues with your Sub-Zero freezer and refrigerator in Lantana? JT Appliance Repair can fix it for you quickly and easily. We're a professional appliance repair firm with extensive experience on the market, so we offer 100% client satisfaction on all our repairs. Our technicians have worked with all Sub-Zero models, old and new, and are knowledgeable about all common issues and fixes.
Our company is available 24/7, Monday through Sunday, with the possibility of emergency calls for immediate repairs. JT Appliance Repair technicians will be at your home in a few minutes to look at your appliance and begin the repair. Generally, we'll finish repairs in 1-2 hours but depending on the extent of the damage, it may take a few days. Don't worry about shoddy maintenance with us! We always ensure your appliance will work several years after our repairs.
Call us at (561) 902-4694 or (954) 729-7320 for a free consultation. You can also use our contact page to send us a message!
Why Hire JT Appliance Repair
When your fridge breaks down, you need a professional repair that ensures it keeps working for many years to come. That's where JT Appliance Repair comes in! We have over 25 years of experience repairing your most common home appliances, including fridges and refrigerators. And we've repaired Sub-Zero appliances more times than we can count. All our technicians are familiar with Sub-Zero.
Here are a few reasons why you need JT Appliance Repair for your Sub-Zero:
Affordability: Our services are considerably more affordable than other companies, incomparable to a new fridge's cost. Let us recondition your Sub-Zero!
24/7 Availability: Our technicians are always available, no matter the time or day. Call us, tell us your problem, and we'll send some to you. It's as simple as dialing our phone number;
We Repair All U-Line Products: Freezers, refrigerators, dishwashers, rangetops, cooktops, built-in ovens, and more;
Professional Repairs: We always ensure your appliances will continue working for many years to come. No shoddy or short-term repairs, only long-term fixes with JT Appliance Repair!
Our firm has built its solid reputation today by focusing on quality above all else. With every client we get, we want to fix their appliances as best as possible. Our goal is to restore the fridge's complete functionality and performance and to renew its lifespan for many years. We may not always be able to do that, but our technicians strive for that.
Customer satisfaction is our top priority at all times. That's why we offer same-day repair services and 24/7 availability. Another thing that sets us apart from other appliance repair companies is our experience with Sub-Zero. We can repair any Sub-Zero model, regardless of its year or issue. We've seen it all so nothing can surprise us anymore.
Best Sub-Zero Appliance Repair Technician
When your fridge breaks down, you need the best repairman to fix it. That's JT Appliance Repair! We have the best Sub-Zero repair services in Lantana and throughout the rest of South Florida. Thanks to our extensive experience with Sub-Zero appliances, we manage to repair most fridges and refrigerators the same day you notify us. In rare cases, we'll need specific components that we don't have, and that's when the repair may take longer.
We're professionals, so all our repairs are 100% guaranteed to last for several years. We've never had cases where the client's appliance broke down after we've fixed it because we take extra care to prevent that. With us, your Sub-Zero fridge has a long life ahead, so don't hesitate to contact us when you need repairs. Our technicians are available 24/7!
Contact
Call us at (561) 902-4694 or (954) 729-7320 for a free consultation about your broken Sub-Zero appliance. You can also use our online form to leave us a message! We're ready and able to come by your house and repair your Sub-Zero at any time.
FAQ
Do your repair other brands besides Sub-Zero?
Yes, we do. Our firm has extensive experience with the following brands: Viking, Scotsman, DCS, U-Line, GE Monogram, Miele, True, Dacor, KitchenAid, and more. We service all of South Florida, 24/7, Monday through Sunday. So, there's never a moment when you can't call us for appliance repairs!
Are your technicians certified to work with Sub-Zero appliances?
Yes, all our technicians are certified experts in repairing Sub-Zero fridges and refrigerators. Most of our staff have decades' worth of experience in repairing home appliances, both old and new models. That's why we can guarantee 100% client satisfaction with our services.
If you need us to repair your Sub-Zero fridge, call us. We'll drop by, assess the damage, identify the cause of the issue, and start repairing. It shouldn't take more than a few hours, at most. And you'll have a working Sub-Zero in no time!