West Palm Beach Viking Freezer and Refrigerator Appliance Repair Technician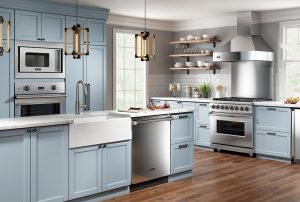 JT Appliance Repair is a dependable Viking freezer and refrigerator appliance repair technician in West Palm Beach. We have a highly qualified team of certified technicians with the necessary tools, skills, and education to repair all kinds of Viking appliances, such as freezers, refrigerators, cooktops, built-in ovens, ranges, and dishwashers. It is what we have been doing for over 25 years with a long track record of customer satisfaction.
Viking branded appliances are not the only types of appliances we can repair. We can repair GE Monogram, KitchenAid Built-In, U-Line, Viking, Sub-Zero, and many others. Each branded appliance has a unique design, but our certified technicians already have experience repairing them. So, it shouldn't take us long to fix whatever is wrong with your particular appliances.
Contact us at 954-729-7320 or 561-902-4694 to submit your Viking appliance repair requests or ask us any questions that you may have about our services.   
Why Hire JT Appliance Repair 
JT Appliance Repair offers emergency repair services for your Viking freezers and refrigerators on a 24-hour basis. Since you depend on your Viking freezer and refrigerator for food storage, they must be promptly fixed whenever they break down. So if you have a Viking appliance that breaks down during the night or day, we'll come to your aid at any time. That is the kind of service we will provide to you.
Our technicians have training and experience in repairing Viking appliances. Not too many other appliance companies have studied the inner workings of Viking freezers and refrigerators. Because of this, our technicians have a much better chance of performing a successful repair job than our competitors.
First, we'll assess every component of your appliance to find where the problem lies. After that, we'll repair or replace the part to restore the appliance's functionality to normal. Most of our appliance repair jobs are successful within the same day, so it will only take one visit to your home or business to restore your appliance to working order again. Then it should stay fully functional for a long time.
Best Viking Appliance Repair Technician 
Do you want to know why JT Appliance Repair has a reputation for being the best Viking appliance repair technician in West Palm Beach? We offer a cost-effective service for repairing all Viking freezer and refrigerator models. It doesn't matter if it's a 10-year-old or a 1-year-old model because we can restore any Viking model at an affordable cost.
Here are the benefits we bring along with our unique appliance repair service:
Brand Familiarity – We have highly trained technicians familiar with the Viking appliance brand and more than 20 other brands. The unique technicalities of each branded appliance require knowledgeable technicians to fix them. We have both knowledgeable and experienced technicians alike.
Fast Delivery – Your faulty Viking freezer and refrigerator will spoil your food unless they get repaired. For this reason, we offer same-day emergency repair services for anyone with a faulty Viking appliance in West Palm Beach. You don't even need to make an appointment because we'll come right on over to your location after you call for help.
Customer Satisfaction – We guarantee the satisfaction of all our customers. Our technicians will do everything possible to restore the functionality of your Viking appliance so that it stays working fine for several more years.
Now you know why JT Appliance Repair is the best appliance repair company in West Palm Beach. We are dedicated to customer satisfaction and deliver results to our customers on the same day they call us for help. What other company in West Palm Beach can make you an offer like that?
Contact 
JT Appliance Repair is ready to take your emergency service requests in West Palm Beach. Call us at 954-729-7320 or 561-902-4694 to submit your Viking appliance repair request today. Remember, we are available 24 hours per day and seven days per week to assist residential and commercial customers in the city.
FAQs 
Do you have factory-certified technicians qualified to repair Viking appliances?
We have qualified technicians with factory certifications and specialized training to repair and restore Viking appliances. The factory certification means we can fix the Viking appliance until they are in their factory condition again. In addition, your warranty on the appliance will remain valid because a factory-certified technician complies with the terms and conditions of the warranty. You cannot find the same guarantee with a  non-factory-certified technician.
Do you only serve customers in the city of West Palm Beach? 
No, we serve customers in cities throughout South Florida. These cities include Boca Raton, Delray Beach, Lantana, Palm Beach, Riviera Beach, Hillsboro Beach, Ocean Ridge, North Palm Beach, Deerfield, and many other cities. Since we have been around in South Florida for over 25 years, we have expanded quite a bit within that time. So you can find us in pretty much any South Florida city.