Delray Beach Viking Freezer and Refrigerator Appliance Repair Technician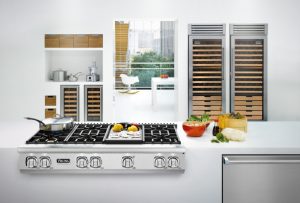 Do you need a professional Viking freezer and refrigerator appliance repair technician in Delray Beach? If so, you won't find a better Viking appliance repair company than JT Appliances.
JT Appliance Repair has a team of technicians who have studied the technicalities and complex inner workings of Viking-branded appliances, including their refrigerators and freezers. We have more than 25 years of professional experience repairing Viking appliances and the appliances of many other brands.
Therefore, you can trust the reliability and honesty of JT Appliance Repair. Call us at 954-729-7320 or 561-902-4694 if you have questions or would like to request repair service for your Viking freezer or refrigerator in Delray Beach. 
Why Hire JT Appliance Repair
It is common for businesses and residents to use Viking freezers, refrigerators, and other appliances of the Viking brand in Delray Beach. It is a famous brand known for producing premium-quality appliances with advanced technologies and inner workings. Consumers enjoy these appliances because they are easy to operate and manage while requiring little maintenance.
However, there will come the point when a Viking freezer or refrigerator needs to get repaired because they don't stay viable forever. If you attempt to repair the faulty appliances yourself, you could end up making them worse rather than better. That is why it is in your best interests to hire a professional and reliable Viking appliance repair company to handle the job.
JT Appliance Repair can repair the following types of Viking appliances:
Freezers
Refrigerators
Cooktops / Ranges
Dishwashers
Built-in Ovens
And more!
Our advanced knowledge of these Viking appliances enables us to repair them at a 50% faster rate than other Viking appliance repair companies. JT Appliance Repair focuses on conducting precise and quick repairs to ensure a satisfactory and accelerated outcome. Customer satisfaction is our number one priority.
Best Viking Appliance Repair Technician 
JT Appliance Repair has the most experienced and educated Viking appliance repair technicians in Delray Beach. There are many benefits to hiring our technicians to repair your Viking freezers and refrigerators. These benefits include:
Customer Satisfaction – JT Appliance Repair has committed itself to provide excellent customer satisfaction. We won't rest until we've repaired your Viking appliance and made it fully functional again. That is what we've strived to achieve for all our customers over the last 25+ years. 
Fast Response Time – We don't want you to wait longer than necessary for assistance. That is why we offer same-day services to any Delray Beach customer who needs their Viking appliances repaired quickly. Our technicians will arrive at your home or business on the same day you called and determine the cause of the problem. After that, the problem will get fixed during the same visit on the same day.
Educated – Our technicians have specifically studied the designs of Viking appliances, particularly Viking freezers and refrigerators. We understand how to find the problem of a faulty Viking appliance and then develop a solution to resolve the problem. Sometimes it means replacing a component, while other times, it could mean some basic maintenance needs to be done.
24/7 Support – JT Appliance Repair provides emergency 24/7 support to residents and business owners in Delray Beach. You can call our office to request assistance at any time, and we'll send a qualified technician to your location immediately. We always have technicians available.
Our Viking appliance repair technicians are ready and able to serve you night and day in Delray Beach.
Contact 
Would you like to hire some honest and hardworking Viking appliance repair technicians in Delray Beach? If so, you should call us at 954-729-7320 or 561-902-4694 to submit your Viking appliance repair request. We'll make sure your appliances are repaired correctly and accurately.
FAQs 
Do you only repair Viking freezers and refrigerators?
No, we can also repair other brands of freezers and refrigerators too. So, in addition to the Viking branded appliances, we can repair freezers and refrigerators made from Scottsman, True, U-Line, Sub-Zero, KitchenAid Built-In, DCS, Mielie, GE Monogram, and several others.
It's not just Viking freezers and refrigerators that we can repair. We can even repair ice machines, gas appliances, dishwashers, dryers, washing machines, and water heaters too. These can be residential or commercial-grade appliances.
Do you have certified technicians with proven skills in appliance repair jobs? 
Yes, we require all our appliance repair technicians to undergo the proper education and obtain the necessary certifications needed to become professionals in this field. JT Appliance Repair can assure you that a certified technician will arrive at your doorstep after you call for assistance.
Our technicians are knowledgeable about the design of Viking appliances and come with the necessary tools and replacement parts to fix them promptly. It shouldn't take us long to diagnose and repair the problem with your appliance after we arrive to fix it.