Riviera Beach Sub-Zero Freezer and Refrigerator Appliance Repair Technician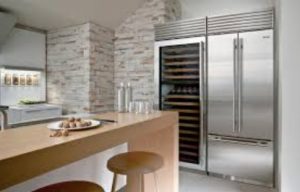 Sub-Zero is a reputable manufacturer and distributor of refrigeration appliances. Perhaps your Sub-Zero freezer or refrigerator has served you well over the years. But even the best products can break down. If you're having issues with your Sub-Zero appliance in Riviera Beach, don't hesitate to contact us! JT Appliance Repair offers quality appliance repair services for clients throughout Florida. We've been in the game for over three decades and can service virtually any appliance brand or model.
No job is too difficult for us. No matter how substantial the repair work is, we never turn down any client! We have extensive experience, and our team is made up of only the best-prepared technicians. Whether you have a luxury walk-in refrigerator, or just an old, small freezer, our repairmen are ready to approach any appliance job. We diagnose and fix most issues on a same-day schedule, so you'll get your trusted freezer or refrigerator back up and running as soon as possible.
Call us at (561) 902-4694 or (954) 729-7320, or use our contact page. We're available 24/7 and offer free consultations and emergency services.
Why Hire JT Appliance Repair
The appliance repair market is ever-expanding. There are multiple companies offering services. But we believe JT Appliance Repair distinguishes itself from the crowd. We're a family-owned and operated business. We've been building up and helping our customer base since 1984. We put a lot of passion into what we do and always strive to improve and expand our offer to reach as many people in need as possible!
Need quick and long-lasting repairs for Sub-Zero appliances in Riviera Beach? Here's why JT Appliance Repair is your best choice:
We Repair All Sub-Zero Products: Freezers and refrigerators, commercial and residential appliances, old, new, and luxury models— we have vast experience repairing any Sub-Zero appliance.
We Offer Same-Day Repair Services: If you need your fridge repaired yesterday, we're the team to call! We prioritize emergency repairs and will get to you as soon as possible. All you have to do is request our same-day repair services. We'll do the rest!
We're Available 24/7: We know that household appliances break at the least fortunate time. That's why we're always just one call away and ready for action. Fridge started leaking on a Saturday night? No problem! We'll be at your doorstep as soon as possible.
We're Transparent and Professional: You don't have to worry about hidden fees. All of our consultations are free! Our technicians will be upfront and explain anything you want to know about the repair costs. We also do our job right the first time! No need to come back for additional repairs.
Best Sub-Zero Appliance Repair Technician
Need a good Sub-Zero appliance repair technician in Riviera Beach? Our team comprises only the best repairmen for hire. That's because we value a solid work ethic and look only for like-minded technicians to join our team. We also continuously invest in our technicians through our collaborations with major brands. Our repairmen assist on-site appliance production and are up to date with the latest products and technological innovations.
Thanks to extensive training, our team members are factory-certified to perform repairs on various appliance brands and models. The list of products we service includes Sub-Zero, Viking, GE Monogram, U-Line, Scottsman, KitchenAid Built In, Dacor, Miele, DCS, and many more! It doesn't matter if you have the newest Sub-Zero luxury appliance on the market. Our technicians are always ahead of the curve. Their knowledge and unique training allow them to troubleshoot any issue within hours, and the repairs should last you for at least several years.
Contact
Call us at (561) 902-4694 or (954) 729-7320 for a free consultation. We're always here to pick up your call. You can also use our contact form to request our same-day repair services! All you have to do is inform us about your appliance brand, and we'll send someone over as soon as possible!
FAQ
What other areas do you service besides Riviera Beach?
Need our services outside Riviera Beach? We're available throughout Florida and cover a long list of locations. You'll also find us in: West Palm Beach, Boca Raton, Deerfield, Delray, Lantana, Ocean Ridge, Palm Springs, Manalapan, Lake Park, West Gate, Lighthouse Point, and many other cities! Head over to our "Locations" section for more information.
Can your technicians repair my appliance if the brand is not listed?
JT Appliance Repair specializes in 25+ appliance brands. The list includes big names such as Viking, Whirlpool, Bosch, and U-line. Other brands include Frigidaire, Sub-Zero, Dacor, Jenn-Air, Thermador, Kenmore, Sears, Fisher & Paykal, and many more!
Chances are, we're more than ready to tackle your appliance malfunction. We also work on residential, commercial, and marine models. If your appliance brand is not listed on our website, just give us a call! We'll answer all your questions during our free consultation. Our technicians are knowledgeable and flexible. Their experience in the field lets them approach any repair job, no matter the product.