Hillsboro Viking Freezer and Refrigerator Appliance Repair Technician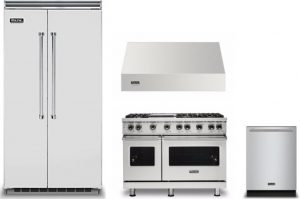 If you live in Hillsboro or even nearby and you have issues with your Viking freezer or refrigerator, you're in luck. JT Appliances also operates in Hillsboro, as well as numerous other locations, and our team can handle any appliance, no matter the type, model, or brand.
Several things recommend us as some of the best in the business, one of them being our astounding experience. We've been active in the industry for close to 40 years, which provides us with unique insight into the job's specifics. This means that there's no job we can't do, no matter how difficult and complex. Our technicians are certified, knowledgeable, and experienced and can adapt to any situation.
Why Hire JT Appliance Repair?
What sets us apart from others doing the same job? Well, several things, including:
Vast Expertise – We're not proficient only in the Viking brand, but numerous other brands. These include: Sub-Zero, U-Line, Mielie, Dacor, DCS, and numerous others. You can check our website to look into the list of available brands, but keep in mind that the list isn't exhaustive. Our technicians can handle numerous other brands, so, don't worry if your specific brand isn't listed.
24/7 Availability – We don't take breaks because we know that home appliances can malfunction at any time. Nothing is more annoying than having your freezer break Friday night, when nobody works anymore. This forces you to wait until Monday morning to get your issue fixed, by which time it may already be too late. We circumvent that problem by simply working 24/7 to provide you with immediate assistance whenever you need it. Even in the middle of the night.
Same-Day Services – Some jobs are more urgent than others. Others are extremely urgent. If you need immediate assistance, you need to hire us to repair your Viking freezer or refrigerator. These appliances require immediate fixing because they're vital to any household. In this sense, we offer Same-Day services which function exactly like they sound. You contact us with your issue, tag the job as urgent and request for Same-Day service, and our technician will be at your doorstep as soon as possible. Your appliance will be fixed and brought in working condition in less than 24 hours. It doesn't get easier than that.
5-Year Warranty – We offer a 5-year warranty on all mechanical parts that we replace or fix. This means that, if they break in this time window, we'll repair or fix them free of charge.
If you need our services and want to contact our team, do so by phone at 954-729-7320 or 561-902-4694 or come online to fill our form. Someone will take your case immediately.
Best Viking Appliance Repair Technician
We handle both residential and commercial appliances, no matter the type with the same professionalism and dedication. Nothing is out of our technicians' reach, because we're a team of knowledgeable experts who rely on constant self-improvement to expand their skills and reach. If you need fast, affordable, and high-quality assistance, you've come to the right place.
We rank as the best Hillsboro appliance repair professionals because:
We offer 24/7 assistance
We can fix anything that relates to home or commercial appliances
We cover a lot of brands and even more types and models of appliances
Our team presents unmatched experience and expertise in the field
We offer budget services and top-notch customer support
Our Same-Day services are perfect for urgent jobs that admit no delay
If your still unconvinced, contact our technicians for a fast chat over the phone, detail your problem, and let's discuss your options.
Contact
We're available for direct contact at 954-729-7320 or 561-902-4694 or online via our online form.
FAQ
What Type of Appliances Can You Fix?
We can fix any type of appliance, both residential and commercial. These include coolers, freezers, refrigerators, ovens, ice machines, cooktops, dishwashers and pretty much anything you can think of. More importantly, our technicians are self-educating and constantly improving their skills and knowledge base. This means you no longer need to run between providers to find the one fit to your needs.
How Fast Can You Fix My Appliance?
A typical work job shouldn't last more than 48-72 hours, depending on the type of appliance and complexity of the damages. However, we can do it even sooner. Our Same-Day services allow you to report the issue and have it fixed inside 24 hours. This is perfect for both residential and commercial clients who need their appliances fixed asap.
Especially when talking about freezers and refrigerators, as these cannot remain out-of-service for too long. If you're interested in knowing how fast we can solve your specific problem, contact us directly for details.
You can reach our team at 954-729-7320 or 561-902-4694 or fill the online form and we'll take it from there. Include as many details as you can, so our technicians can have a better picture of what you're dealing with.