Miele Appliance Repair Technician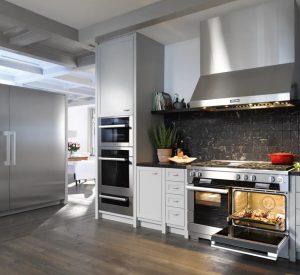 Miele is a German appliance manufacturer of luxury appliances for both commercial and domestic purposes. Their selection of domestic appliance products includes vacuum cleaners, washers, dryers, dishwashers, ovens, refrigerators, freezers, coffee systems, and wine coolers. They also make several popular commercial appliance products, including medical equipment washers, dental disinfectors, lab glassware washers, and wet cleaning machines.
Miele appliances are sold internationally, including in the United States. If you shop at any appliance store in South Florida, then you'll probably come across the Miele brand at some point. But if you have one of their appliances in your home or business, you need to have a designated repair technician on standby if the appliance malfunctions. That is where we can help.
Why Hire JT Appliance Repair? 
JT Appliance Repair is a dependable and professional Miele appliance repair company in South Florida. We have over 25 years of experience repairing Miele brand appliances for domestic and commercial customers in the region.
Our technicians have undergone all the necessary training and education to learn how to fix most appliances, especially the appliances made by Miele. We even receive continuous education on the latest Miele appliance models and the best ways to repair them. You won't find a better appliance repair company in South Florida. We stay on top of everything.
JT Appliance Repair maintains its office hours 24/7. If your appliance breaks or malfunctions in the middle of the night, you can have peace of mind knowing that a qualified appliance repair company is available at all hours to help you out. We can repair any of the appliances of the Miele brand.
Locations We Service 
JT Appliance Repair has offices and appliance repair technicians positioned all over South Florida. Here are some of the cities that we serve in this region:
North Palm Beach
Riviera Beach
Lantana
Ocean Ridge
Hillsboro Beach
West Palm Beach
Boca Raton
Palm Beach
Delray Beach
Deerfield
We strive to deliver a fast response time to all service requests. If you live in any one of these cities or a nearby town or city, please call us whenever you have a problem with your Miele appliance. We'll dispatch the nearest qualified repair specialist to your home or business address.
Contact 
Are you ready to submit a Miele appliance repair request? You can send your request by calling our office at (561) 902-4694. Let us know your name, phone number, email address, and the details about the problem with your Miele appliance. You can also send the same request via email through our website's online contact form.
We offer three options for the delivery speed of our services: Same Day, Next Day, and Not Urgent. If you choose the Same Day option, we'll have a technician over to your property on the same day you call. The severity of your appliance issue will depend on how fast it takes for us to fix it.
FAQs 
1) What types of appliances can you repair? 
JT Appliance Repair is trained to repair most types of appliances, including ice machines, walk-in freezers, coolers, ranges, water heaters, gas appliances, refrigerators, washers, dryers, and more. We specialize in repairing Miele brand appliances too. So, no matter what type of Miele appliance has caused you problems, we have qualified repair specialists available to resolve those issues promptly.
2) Do you offer emergency repair services for Miele brand appliances? 
Yes, JT Appliance Repair does offer emergency repair services for all Miele brand appliances and other appliance brands. When you call our office at (561) 902-4694, let our customer service representative know about the situation with your Miele appliance. In response, we'll send the most qualified appliance repair technician to your home or business within the next hour.