Delray Beach GE Monogram Freezer and Refrigerator Appliance Repair Technician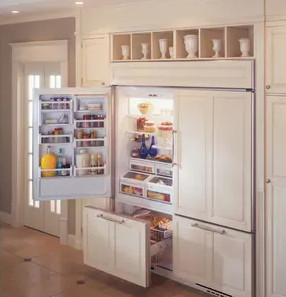 Are you looking for a professional appliance repair company with specialized knowledge in repairing GE Monogram freezers and refrigerators in Delray Beach, Florida? If so, you have come to the right place.
JT Appliance Repair is one of the only appliance repair companies in Delray Beach with factory-certified technicians who have expertise in the inner workings and technicalities associated with GE Monogram appliances. We have over 25 years of experience repairing technologically sophisticated appliances like GE Monogram freezers and refrigerators.
So if you have a malfunctioning GE Monogram appliance in Delray Beach, you should give our team a call right away. We'll work hard to restore the functionality of your appliance so it can work for several years to come.
Why Hire JT Appliance Repair
Numerous Delray Beach businesses and residents use GE Monogram freezers and appliances in their buildings. It is a trusted brand responsible for creating premium-quality appliances with advanced features and functions.
End consumers significantly benefit from these sophisticated appliances until they need repair. That is when you should hire JT Appliance Repair. We are one of the best GE Monogram appliance repair companies in Delray Beach. Our technicians have repaired thousands of GE Monogram appliances for individuals throughout the region.
The range of GE Monogram appliances we can repair include:
Freezers
Refrigerators
Built-In Ovens
Cooktops / Rangetops
Dishwashers
And more!
Our technicians can repair GE Monogram appliances in 50% less time because we understand their technicalities so well. Speed and precision are two essential aspects of our appliance repair services. You will see this demonstrated for yourself after hiring JT Appliance Repair to repair your GE Monogram freezer or refrigerator in Delay Beach. Customer satisfaction is what we always strive to achieve.
Best GE Monogram Appliance Repair Technician
There are many reasons why JT Appliance Repair is the best GE Monogram appliance repair company in Delray Beach.
Dedicated – JT Appliance Repair is dedicated to providing a positive customer experience on every repair job. Our technicians will do everything possible to diagnose the problem with your GE Monogram appliance and then repair it. We'll always recommend the most affordable repair option so that you can save money and enjoy many more years with your existing GE Monogram appliance.
Speed – Businesses and individuals need fully functional GE Monogram freezers and refrigerators to preserve their food products. JT Appliance Repair doesn't waste time responding to emergency repair requests after a GE Monogram appliance malfunctions. We'll promise to have a qualified technician at your address within the same day you call for help.
GE Monogram Knowledge – It helps when appliance repair technicians have firsthand knowledge and experience with the inner workings of GE Monogram appliances. Our technicians are factory certified, which means they have studied the technicalities of these specific branded appliances. As a result, they know how to repair them quickly and efficiently.
24/7 Emergency Service – JT Appliance Repair can address your GE Monogram appliance emergency at any time of the day or night in Delray Beach. All you have to do is call our office and submit your emergency service request. In response, we'll dispatch the nearest available appliance repair technician to your location to address the issue quickly and professionally.
Few other GE Monogram appliance repair companies are as dependable and reputable as JT Appliance Repair. We know you will be pleased with the level of professionalism that comes with our service.
Contact
Are you tired of hiring dishonest appliance repair technicians in Delray Beach? Would you like to hire experienced and reliable appliance repair technicians familiar with repairing GE Monogram appliances?
JT Appliance is the best company suited to repair your GE Monogram freezer, refrigerator, or other appliance in Delray Beach. You can submit your questions or emergency service requests to our team at 954-729-7320 or 561-902-4694. We are available 24 hours per day, 7 days per week.
FAQs
Do you provide GE Monogram appliance repair services in any other Florida location besides Delray Beach?
Yes, we serve almost every city and town in the South Florida Region. In addition to serving businesses and residents of Delray Beach, we also serve customers in Boca Raton, West Palm Beach, Deerfield Beach, Ocean Ridge, Palm Beach, Lantana, Lake Worth, Hillsboro Beach, Riviera Beach, and Palm Springs.
We have skilled technicians on-call 24 hours per day to provide you with emergency appliance repair services in Delray Beach. Contact our team at (561) 902-4694 if you would like to submit your emergency service request today. We offer same-day delivery of our repair services.
Do your appliance repair technicians possess the proper certifications and credentials?
JT Appliance Repair always employs factory-certified appliance repair technicians who have the proper training and experience to repair popular branded appliances like GE Monogram freezers and refrigerators. Our technicians have studied the technical inner workings of these appliances, so we have the highest probability of repairing them for you.