True Appliance Repair Technician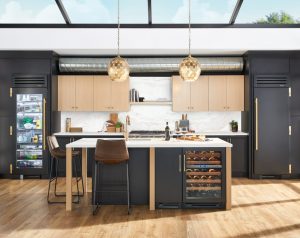 True is a residential and commercial refrigeration appliance company in the United States. They manufacture premium quality refrigerators for storing and cooling food. Their refrigerator model designs include side-by-side, column, under the counter, ice and ADA. They even offer outdoor and custom refrigerator design options too.
True creates some of the best refrigerators in the country. They have several more shelves and storage space than your typical refrigerators. If you have a True refrigerator appliance in your residential or commercial kitchen, it should last you for several years before it malfunctions. But once it does malfunction, you can have it repaired by a dedicated team of refrigerator repair specialists.
Why Hire JT Appliance Repair? 
JT Appliance Repair has been repairing refrigerators for over 25 years. Our technicians are very familiar with the True Appliance brand and all the refrigerator appliances it produces. We also stay up to date on the latest True Appliance refrigerator models sold in stores. That way, we can have a better understanding of their internal components and functionality in order to repair them successfully.
Locations We Service 
JT Appliance has a far reach in South Florida. We offer True Appliance refrigerator repair services to domestic and commercial customers in the most popular South Florida cities. Some of these cities include the following locations:
Lantana
Ocean Ridge
Hillsboro Beach
West Palm Beach
Boca Raton
Palm Beach
Delray Beach
Deerfield
North Palm Beach
Riviera Beach
If you live in a different city in South Florida, please get in touch with us anyway. We have technicians dispersed throughout the region, so we're always willing to make service exceptions if you live in a nearby town or city. Our commitment to customer satisfaction is unmatched by any other True Appliance product repair company in the region.
Contact 
Are you having trouble with your True Appliance product in South Florida? If so, you can receive immediate assistance from our local appliance repair specialists. We offer free consultations to all new potential customers who want to know more information about our repair services and how we can help them repair their True Appliance product issue.
You can reach our team by phone at (561) 902-4694 to learn more information about our repair services. If you are submitted a True Appliance repair request, please let our customer service team know more information about the problem with your appliance. That way, we can send the best technician to your address with the necessary tools and experience to repair the issue.
FAQs 
1) Do you only repair True Appliance brand appliances? 
No, we don't only repair True Appliance brand appliances. Our appliance repair technicians have the necessary qualifications to fix appliances from over 25 of the most popular brands on the market. When you contact our office to request assistance, let us know the brand and model of your appliance if you have that information. We'll be able to tell you over the phone if we have experience with that brand.
2) How fast can you repair my appliance? 
JT Appliance Repair offers three different speed options for our appliance repair services: Not Urgent, Next Day, and Same Day. If you need your True Appliance unit repaired immediately, you can request our Same Day repair speed option. We'll have a qualified appliance repair technician dispatched to your South Florida property within the next hour or so.
You can also choose the Not Urgent or Next Day speed options for a lower price. It all depends on whether your malfunctioning appliance has created an emergency for you or your business. If you rely on your appliance for your livelihood or business productivity, you should choose the Same Day option.