JT Appliance Repair Boca Pointe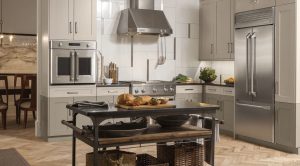 New appliances may have more modern technological advantages, but they certainly don't last as long as older appliances. You'd be fortunate if a new appliance lasts for more than 5 or 10 years because the parts wear out faster now. For this reason, the demand for appliance repair services is greater than ever. You just have to pick an appliance repair company you can trust in Boca Pointe.
Some of the qualities you should look for in an appliance repair company are their reputation, experience, and official credentials. They should also have technicians who can repair new and old appliances without any problems. Most importantly, a high level of positive customer feedback will ensure that you can trust them.
Why Hire JT Appliance Repair
JT Appliance has dedicated itself to providing customer satisfaction whenever someone needs an appliance repair service in Boca Pointe. Our technicians are capable of repairing commercial and residential grade appliances from all the best brands on the market. It is what we have been doing for over 25 years without exemplary results. We have received a plethora of positive customer reviews because of our dedication to high-quality customer service.
In addition, we offer some of the most competitive prices on appliance repair services compared to other companies in Boca Pointe. JT Appliance believes in making repair costs affordable for the average homeowner and business owner. Our price quotes are based on the severity of the appliance problem and which replacement parts are needed to fix it. 
JT Appliance Repair employs technicians with verified educational backgrounds and experience repairing a wide range of appliance units. We hold all the legally required licences, certifications, and insurance policies to provide these services in Boca Pointe. Here are some of the appliance types that we can repair:
Refrigerators
Air conditioners
Washers
Dryers
Ranges
Water heaters
Ice machines
Walk-in Freezers
Dishwashers
Gas-based appliances
And more!
JT Appliance can work with appliances of all sizes and shapes. It doesn't matter if you have a faulty domestic, commercial or marine appliance because we have the training and tools to repair any of them. You can find out additional information about our repair capabilities when you call us for a free consultation. 
Brands JT Appliance Service
Each appliance brand has a unique design for its appliances. However, JT Appliance has experience repairing appliances from over 25 of the best brands in Boca Pointe. These are brand appliances that most business owners and homeowners have in their buildings right now.
Some examples of these brands include:
Sub-Zero
Viking
KitchenAid Built-In
GE Monogram
U-Line
Scottsman
Mielie
Dacor
DCS
True
JT Appliance uses multiple professionals to provide repair services to clients in Boca Pointe. These repair professionals consist of skilled technicians, customer service representatives, and parts specialists. We will work together to determine the best solution for your faulty appliance problem and execute that solution immediately.
Contact
Do you have questions about our appliance repair process or capabilities in Boca Pointe? We welcome all questions and comments from potential customers over the telephone. Just call us at (561) 902-4694 to get your questions answered or submit a request to get your appliance repaired.
FAQs
1) Do you offer same-day delivery for your appliance repair services? 
Yes, we offer an emergency delivery option for anyone who needs to get their appliance repaired as soon as possible. When you contact our customer support team for assistance, let them know that your appliance problem is an emergency. We will respond to the emergency immediately by dispatching a qualified technician close to your location in Boca Pointe.
The response time is typically 60 minutes or less, depending on the number of customers in need of help at that time. But you can count on same-day delivery if you call during the day. Of course, we are open 24/7 to answer your emergency service requests. This means if you need a technician to repair your appliance at nighttime or early in the morning, we can fulfill that request promptly.
2) Do you offer free consultations and price quotes? 
Yes, our team can provide you with a free consultation on your particular appliance dilemma. A consultation involves an exchange of information between you and the rest of our appliance repair team. It gives us a chance to learn more about your appliance and the problem you face with it. Then, after your appliance receives a thorough inspection, our technicians can determine the best course of action going forward.
In most situations, we'll be able to repair the appliance. Most faulty appliances stop working because they have one or more worn-out parts in them. If we can replace those parts with new ones, your appliance should work again just fine. However, if your appliance cannot be repaired because the entire system is deemed unsalvageable, we'll recommend replacing it instead.