Deerfield GE Monogram Freezer and Refrigerator Appliance Repair Technician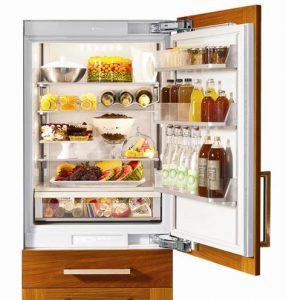 The GE Monogram appliance brand is one of the best around. It is a popular brand because its appliances are quality-made and last a long time. However, even a high-end appliance brand like GE Monogram cannot make lifetime guarantees for its appliances. There will come the point when a GE Monogram appliance starts to malfunction because of one or more worn-out components inside of it. Once this happens, you will need to get those components identified and replaced immediately.
The first thing you should do is call JT Appliance Repair to request emergency assistance in Deerfield. JT Appliance has over 25 years of experience and an excellent track record of customer satisfaction. Even though there are several other appliance repair companies in the area, not too many of them have the same prestige and experience as we do.
Why Hire JT Appliance Repair
JT Appliance Repair can repair GE Monogram appliances quickly and professionally. We have an elite group of qualified technicians trained and educated in the art of appliance repair. Not only that, but we are factory-certified technicians specializing in GE Monogram appliance repair. We understand the inner workings of GE Monogram freezers and refrigerators and how they work. That is what qualifies us to repair your GE Monogram appliances in Deerfield.
The first thing we will do is locate the problem with your GE Monogram appliance. In most cases, the problem is related to a faulty component that has worn out after years of use. Don't worry because we bring an inventory filled with spare parts for various appliance models and brands. We should be able to replace the faulty component in your appliance on the first visit. Then your appliance will be restored and made fully functional again.
Best GE Monogram Appliance Repair Technician
The best GE Monogram appliance repair technicians can only be found at JT Appliance Repair. Our technicians offer 24/7 emergency assistance whenever your GE Monogram appliances have broken down or malfunctioned in Deerfield. We can repair the following types of GE Monogram appliances:
Freezers
Refrigerators
Built-In Ovens
Cooktops / Rangetops
Dishwashers
And more!
We promise to send the most qualified GE Monogram appliance repair technicians to fulfill your emergency service request in Deerfield. Each technician is insured, licensed, educated, and certified in the field of appliance repair. In addition, they have undergone the proper training to understand how GE Monogram appliances function, making it much easier for us to repair them successfully.
Our technicians are committed to delivering quick customer service of the highest quality. In fact, our business model revolves around customer satisfaction so that we please our customers on every service request. It is what we have done for over 25 years, and it's what we'll continue to do.
Do you have another brand of the appliance? JT Appliance Repair can also repair appliances from reputable brands like DCS, Mielie, U-Line, Viking, Sub-Zero, True, Scotsman, and KitchenAid Built-In. We have worked with over 25 different brands and have achieved satisfactory results every time.
Contact
It only takes one phone call for our technicians to arrive at your home or business and make the necessary repairs on your GE Monogram appliance. You can contact us at 954-729-7320 or 561-902-4694 to submit your emergency service request or ask any questions you might have about our services. A free price quote will be given to you over the phone so that you can budget accordingly. 
When you call our customer support agent, please describe the problem you're having with your appliance and give them the make and model. That way, we can send the most qualified technician to address the issue. You won't need to provide any spare parts or tools because we always bring our own.
FAQs
Do you serve customers outside of Deerfield?
Yes, we can repair GE Monogram appliances for customers outside of Deerfield. In fact, we serve customers in most cities across the South Florida Region. So if your home or business falls within this region, we'll most likely be able to fulfill your emergency service requests. Additional service areas include Lantana, Boca Raton, Ocean Ridge, Riviera Beach, West Palm Beach, Hillsboro Beach, Delray Beach, Lake Worth, Palm Beach, and others.
If you still have questions about the availability of our services in your particular area, you can call us at 954-729-7320 to verify whether we can serve it. The most likely answer will be yes if you live near any of these cities.
Can you repair all the GE Monogram appliance models?
Our factory-certified appliance repair technicians have made an extra effort to study the inner workings of most GE Monogram appliance models, both new and old. So if you have an older or newer GE Monogram refrigerator or freezer that has stopped working, we're confident in our ability to fix it.