U-Line Appliance Repair Technician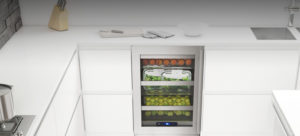 Whether you have a defective freezer, ice machine, or a cold-brew dispenser, JT Appliance Repair is here to help you fix your household appliances for an affordable price. For clients living in South Florida, we offer factory-certified repair work for any U-Line brand products, irrespective of type or model.
We also service multiple other top brands, including Sub-Zero, Scottsman, Kenmore, Frigidaire, Dacor, Mila, Amana, Westinghouse, Bosch, GE, Viking, and many more. There's no brand, type, or model of residential or industrial appliance that our team cannot fix.
Why Hire JT Appliance Repair
We work round the clock, seven days a week, to reach as many clients as possible. We offer top-quality same-day repair services at affordable prices. Whenever you need an emergency repair, we'll be ready to help. We have 25 years of experience working in this field, and we are continuously expanding our services.
Whether you're trying to fix a regular household device, or an upper-end, commercial appliance, we'll provide satisfying repair services each time. Besides emergency or regular repairs, we also offer full-service appliance installations.
We work with virtually any type of refrigeration or cooling appliance, including ice machines, dispensers, wine refrigerators, outdoor and marine refrigerators, as well as free-standing, full-width, side-by-side, built-in, and walk-in freezers.
Thanks to our partnerships with top brands on the market, we're able to provide extensive training for all our technicians. Our team is thus highly qualified and always working directly with the newest technology on the market.
We're factory-trained and factory-certified to perform professional repairs for multiple top brands. If you need quick, high-quality appliance repairs for any U-Line product or other brands, don't hesitate to contact us today!
Locations We Service
We fix a wide array of residential, marine, and industrial appliances for clients in South Florida. You can hire us for a repair job in any of the locations we service, which include West Palm Beach, Boca Raton, Palm Beach, Delray Beach, Deerfield, North Palm Beach, Riviera Beach, Lantana, Ocean Ridge, and Hillsboro Beach.
You don't have to worry about long waiting times or high costs either. We do everything within our power to offer only the quickest, highest-quality services within an accessible price range. There are no hidden fees, and we'll always be upfront about estimated repair and component replacement costs.
Contact Us
For any type of appliance repairs, call us at 954-729-7320 or 561-902-4694. We guarantee a prompt response and professional customer service. We're ready to take your call 24/7, and we're always glad to answer any of your questions. For U-Line appliance repairs, JT Appliance Repair offers the best services throughout all of Florida.
If you're ever in need of urgent repairs to your U-Line refrigerator or fridge, then you can always count on us. Our team of technicians can get to you as soon as possible and finish the repairs on the same day. When it comes to malfunctioning appliances, hiring inexperienced technicians is the worst call you can make. Instead, hire a team of experts for the best results!
FAQs
Are U-Line appliances difficult to repair
Not at all. Our technicians are deeply experienced with U-Line refrigerators and freezers, so they can fix them in record time. It won't take more than a few hours or even less!
Is there a warranty in place for the repairs?
JT Appliance Repair offers a 5-year warranty on mechanical parts, so if your appliance becomes faulty during these 5 years, we'll replace the busted parts for free. Our appliance repair firm strives to meet all quality standards and meet your expectations to the fullest!