Viking Appliance Repair Technician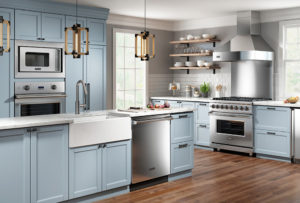 Viking freezers and refrigerators malfunction sometimes, completely disrupting household activities. This event suffers no delay, and so you need a competent technician doing the repairs. JT Appliance Repair has your back with the damage assessment and repairs. We'll come to your place right away, investigate, and begin the repairs on the same day.
Contact us at 954-729-7320 or 561-902-4694 for more information!
Why Hire JT Appliance Repair
A technician should do one thing right – repair your appliance until it reaches optimal functionality. There are many such companies in the US, but we dare say JT Appliance Repair is the best among them. Our technicians have manufacturer-issued certifications to work on various refrigerator brands, including Viking. We know the location of every screw, bolt, and metal plate on these freezers and refrigerators.
You can rely on us for the highest quality workmanship and a professional quote. For services rendered, we also offer a 5-year warranty for mechanical parts. We understand that your household autonomy matters. After all, having a faulty refrigerator or freezer makes normal living almost impossible. So, we're committed to helping you achieve that autonomy long-term.
We advise against hiring amateurs to repair your Viking fridge. Without ample technical knowledge, these "experts" are bound to damage the appliance further. This will make a complete recovery even harder. If you want a professional fix, then let JT Appliance Repair take over the job!
Locations We Service
Our appliance repair firm works around the clock in multiple locations, including Hillsboro Beach, Delray Beach, Palm Beach, West Palm Beach, Boca Raton, Deerfield, Riviera Beach, Ocean Ridge, Lantana, and North Palm Beach. If you live in any of these locations, then we're just a call away. Our team can be there in the shortest time, ready to assess and repair your Viking refrigerator.
Obtaining an expert's help is priceless thanks to their accumulated technical knowledge and practical skills. Our technicians are more than capable of dismantling and reconfiguring your Viking fridge to achieve optimal functionality again. It won't even take long, since we can finish the repairs the same day you contact us. You won't have to wait another day for what we can solve immediately!
Contact US
JT Appliance Repair is available 24/7 at 954-729-7320 or 561-902-4694! There's always be someone to respond to your call, whether it's during the day or night. Our team will reach your door faster than you think, and they'll be equipped to repair your Viking refrigerator on the spot. With us, it'll only take a few moments to figure out what's wrong with your appliance.
Our same-day repair system allows for immediate repairs with no delay. Give us a call today and we'll repair your fridge right away! JT Appliance Repair is the leading appliance repair service in North Palm Beach, Delray Beach, Boca Raton, Fort Lauderdale, and more. Our client's satisfaction and comfort are all that matter to us, and we bring 110% effort to the table to achieve this.
FAQs
Do you offer repair guarantees or warranties?
Yes, we have a 5-year warranty for mechanical parts. This means that, if we repair your fridge and a mechanical part breaks down, we'll replace it for free for the next 5 years. Our services are quality-oriented, and we strive to reach the highest quality standards in appliance repairs.
Do you repair built-in freezers and refrigerators?
Yes, we can fix a wide range of refrigerator and freezer models, including built-in, free-standing, full-width, side-by-side, and many more. Basically, we can repair any Viking appliance regardless of the model or structure. Contact us before doing anything else so we can start the repairs right away!