Hillsboro Sub-Zero Freezer and Refrigerator Appliance Repair Technician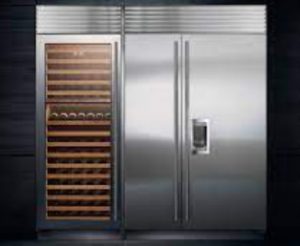 Do you need assistance with your Sub-Zero freezer or refrigerator in Hillsboro? Give us a call, and we'll fix your Sub-Zero immediately! Look no further than JT Appliance Repair! Our technicians can restore your appliance back to peak performance in just a few moments. In many cases, a small problem causes a major defect with the appliance but with the right tools, we can repair your fridge in no time.
JT Appliance Repair has over 35 years of experience repairing household appliances, Sub-Zero included. Our technicians are qualified experts who know the ins and outs of every Sub-Zero model. So, you don't have to worry that you have an older Sub-Zero refrigerator. We know how to fix them all. We work quickly and professionally for a job well done and an appliance working in perfect order.
Call us at (561) 902-4694 or (954) 729-7320 for a free consultation. You can also use our contact page to send us a message!
Why Hire JT Appliance Repair
Our company has fixed Sub-Zero appliances for over two decades. After witnessing countless technical issues with this brand, we've developed a fast and easy solution for each problem. We understand that there's no replacing your fridge and you need it as soon as possible. Our technicians work fast and professionally to ensure you don't have to live without your fridge a second longer than necessary!
JT Appliance Repair is available 24/7, Monday through Sunday, with emergency service responding in Hillsboro and other areas. We'll be at your home in a few minutes, ready to analyze your Sub-Zero and find out what's wrong. If it's a common problem, we'll begin repairs right away and fix your fridge in record time. However, if the problem is extensive and we need a particular component, it may take more time.
This is what you'll receive if you hire us:
Professional Repairs: We never leave an appliance half-repaired or provide shoddy components for short-term fixes. Quality and long-term performance define our appliance repair services!
Fast Repair Times: Our technicians work fast to reduce your stress and discomfort as much as possible. Your Sub-Zero fridge will be up and running again in no time;
We Repair All Sub-Zero Products: Freezers, refrigerators, and any other Sub-Zero products that you can think of. We have experience working with all models of this brand!
Customer Satisfaction Guaranteed: Our repairs will keep your Sub-Zero appliance working for several more years. That's a guarantee!
You'll never be confused about the state of your Sub-Zero fridge or refrigerator ever again! In any case, JT Appliance Repair guarantees 100% satisfaction with our repairs. That's because we always perform long-term repairs on client appliances. If a long-term repair is not possible because the fridge has suffered extensive damage, we'll tell you that. In some cases, the appliance is beyond repair and it needs replacement.
Best Sub-Zero Appliance Repair Technician
Our technicians are the best in Hillsboro. They have extensive experience repairing all types of home appliances, Sub-Zero included. JT Appliance Repair hires only experts to work for us, guaranteeing client satisfaction. We're very familiar with Sub-Zero fridges and refrigerators, no matter the make and model, making us the leading Sub-Zero repair firm in the area.
Did your Sub-Zero fridge start behaving erratically these past few days? Does it emit strange sounds or weird smells? These are some of the symptoms of a fault with the appliance. Some of the components may need replacing, but which ones? JT Appliance Repair can narrow down the issue with your Sub-Zero appliance and fix them immediately.
You don't need to replace your fridge and waste money on a new appliance. Reconditioning your old Sub-Zero will do. Our repairs are considerably more affordable than buying a new fridge. We guarantee functionality and top performance for several more years, so why hesitate? It's a great deal, and you'll get off cheaper this way.
Contact
If you're experiencing issues with your Sub-Zero appliances, don't waste time, and call us at (561) 902-4694 or (954) 729-7320 for expert repairs! Use our online form for a free consultation if you need it.
FAQ
Do you offer repair services in other cities besides Hillsboro?
Yes, we do. JT Appliance Repair offers appliance repair services throughout South Florida, including Boca Raton, Palm Beach, Delray Beach, Hillsboro Beach, Deerfield, Lantana, Riviera Beach, North Palm Beach, Ocean Ridge, and more. Call us if you live in these cities and need help with your appliances! Our technicians will arrive as soon as possible and restore your Sub-Zero to peak performance in no time.
Are your technicians familiar with all Sub-Zero models?
JT Appliance Repair is the best appliance repair company for Sub-Zero fridges and refrigerators in Hillsboro! Yes, our technicians have extensive experience with all Sub-Zero models. We've repaired older and newer models alike, and we know what components they use, common issues, and how to repair them for long-term functionality.