Boca Raton Sub-Zero Freezer and Refrigerator Appliance Repair Technician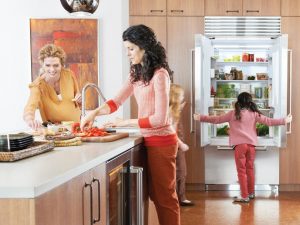 Do you have a broken freezer or refrigerator from the Sub-Zero brand? If so, you need a qualified appliance repair technician with experience fixing Sub-Zero freezers and refrigerators. Fortunately, you don't have to look for one because you have already found one!
JT Appliance Repair has a team of qualified appliance repair technicians with knowledge and experience repairing over 25 different brands of freezers and refrigerators in Boca Raton. One of the brands we work with often is Sub-Zero. It is a familiar brand to our technicians, so we'll be ready to fix your Sub-Zero freezer or refrigerator quickly and professionally.
Why Hire JT Appliance Repair 
JT Appliance Repair can repair all Sub-Zero products, such as freezers, refrigerators, built-in ovens, ranges, dishwashers, and more. Our technicians come fully prepared with the necessary tools and parts to repair your Sub-Zero appliances. You won't have to supply us with anything other than a brief moment of your time. Then, we will handle the rest.
Remember that the cost of repairing Sub-Zero freezers and refrigerators is much less than the cost of replacing them. So just because your Sub-Zero appliance malfunctions, it doesn't mean you need to buy a new one. Instead, you can save a lot of time and money if you hire JT Appliance Repair to salvage your existing Sub-Zero freezer or refrigerator.
JT Appliance offers the following benefits when you hire our technicians:
Experience – We have over 25 years of experience fixing Sub-Zero appliances for Boca Raton residents and business owners. Our technicians can repair old and new Sub-Zero appliances, including freezers and refrigerators.
Customer Oriented – Customer satisfaction is our top priority. We will repair your Sub-Zero appliances in the quickest time possible without diminishing the quality of our work.
Same Day Service – A faulty appliance can be an emergency, especially where freezers and refrigerators are concerned. To tackle this problem, our technicians offer an emergency same-day delivery service whenever you need your Sub-Zero appliance fixed as soon as possible.
Professionalism – Our technicians always uphold the highest levels of ethics, integrity, and professionalism on every project. We will do a thorough job of investigating the problem with your Sub-Zero appliances and then do whatever is necessary to fix it.
Contact JT Appliance today to start enjoying these benefits.
Best Sub-Zero Appliance Repair Technician 
Boca Raton has many appliance repair technicians offering their services. However, none of them have the same reputation and experience as JT Appliance Repair. We have the best Sub-Zero appliance repair technicians in Boca Raton. Our technicians are familiar with the technicalities of Sub-Zero appliances, which makes repairing them so much easier for us.
Don't forget that not all freezers and refrigerators are built the same. Sub-Zero freezers and refrigerators are sophisticated appliances that require a technician familiar with the brand to repair them. JT Appliance Repair is one of the few appliance repair companies with experienced Sub-Zero appliance repair technicians. That is why we are the best Sub-Zero appliance repair technicians in Boca Raton.
Contact Us 
Are you ready to hire some honest Sub-Zero appliance repairmen in Boca Raton? JT Appliance Repair is ready and able to fulfill your service request promptly. All you have to do is call us at 954-729-7320 or 561-902-4694 to get started. We can have someone out to your home or business within the hour.
FAQs 
Do you serve other locations besides Boca Raton? 
Yes, we offer Sub-Zero appliance repair services to several different South Florida cities besides Boca Raton. Other locations we serve include Ocean Ridge, Riviera Beach, Lantana, Deerfield, Palm Beach, West Palm Beach, Hillsboro Beach, and many others. If you want to know whether we serve your location, contact us at 954-729-7320 or 561-902-4694, and we'll be happy to tell you.
JT Appliance Repair has expanded its operation across South Florida over the 25+ years we've been in business. We are now one of the most trusted appliance repair companies for Sub-Zero appliances in the region. So even if you are out of Boca Raton, we may still be able to fulfill your Sub-Zero appliance repair request.
Are your technicians certified to perform appliance repairs? 
Yes, we have appliance repair technicians who have been factory-certified to perform repairs on Sub-Zero appliances and other branded appliances. Factory certification means we have undergone specialized training to repair appliances from that specific manufacturer, Sub-Zero. That should give you more reassurance in our ability to repair your Sub-Zero appliances flawlessly.
In addition, our technicians can work on all types of Sub-Zero refrigerator and freezer models, including the full-width, side-by-side, and free-standing models. Therefore, you will be in good hands when you entrust our technicians to repair your Sub-Zero appliance models no matter what they are. Then, in most cases, you will be able to go back to using those appliances the very same day.