Sub-Zero Freezer & Refrigerator Appliance Repair Technician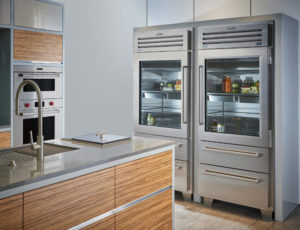 JT Appliance Repair can fix any Sub-Zero freezer or refrigerator, regardless of the malfunction cause. We bring the parts, you agree to our quote, and we can repair your appliance the same day you call us. Over 25 years of experience recommends our company as a veteran in the appliance repair sector. Moreover, all our technicians are experienced technicians with ample knowledge of Sub-Zero technicalities.
Why Hire JT Appliance Repair
It's never too late to fix your Sub-Zero freezer or refrigerator. Repairs are always less expensive than a replacement, for evident reasons. We can fix your fridge in half the time other technicians can. It's because we value precision, quickness, and we suffer no delays in serving our clients. Professionalism and commitment are essential to our business model!
Hire JT Appliance Repair if you want a fast and guaranteed repair that'll last for years! You may want to hire our company for our:
Professionalism – We'll be there at the agreed-upon hour and offer a reasonable quote and stellar repair services. Nothing matters more to us than the client's satisfaction
Extensive Knowledge – Our technician s know everything about Sub-Zero freezers and refrigerators, even minute details that no one else knows. Our repairs are guaranteed to put your appliance back into an optimally functional state
Promptitude – We'll repair your fridge the same day you call us. No paperwork needed and no delays either. Call us and we'll send a technician to your place to investigate and repair your Sub-Zero appliance immediately
Commitment – Our clients' satisfaction is most important to JT Appliance Repair. We commit to fixing your Sub-Zero appliance in the fastest and most thorough manner possible!
Don't hesitate to contact us for top-quality appliance repairs!
Locations We Service
Our company goal is to offer proper repair services for everyone, with technicians that offer realistic quotes and provide quality-oriented services. Every one of us has dealt with dishonest workmanship, and it's not pleasant nor affordable. JT Appliance Repair vowed to change this 25 years ago, and at present, we bring stellar repair services to:
Boca Raton
Palm Beach
Delray Beach
West Palm Beach
Deerfield
Lantana
North Palm Beach
Hillsboro Beach
Riviera Beach
Ocean Ridge
If you live in any of these locations, you can benefit from our high-quality repair services. We can repair any Sub-Zero freezer or refrigerator model the same day you call us!
Contact US
We bring reliability and professionalism to an industry that sees many dishonest repairmen trying to swindle their clients. JT Appliance Repair seeks to impose an ethical model of business! If you need a quick fix on a Sub-Zero freezer or refrigerator, call us at 954-729-7320 or 561-902-4694 and we'll send someone to your place.
Our technicians can repair or replace any Sub-Zero parts on a defective fridge or refrigerator. They work efficiently and with precision to be done as fast as possible, so you can get back on track with your day. No one likes it when essential household appliances malfunction, but that's why we're here!
FAQs
Do you repair all Sub-Zero models?
You are in good hands if you hire JT Appliance Repair for a Sub-Zero fridge. Our technicians can repair any Sub-Zero model, old and new, back to an optimal working state. With us here, you won't have to replace a faulty refrigerator and shoulder more expenses than you have to.
Are you certified to perform appliance repairs?
All our technicians are factory-certified to repair Sub-Zero appliances and not only. We've worked with built-in, free-standing, side-by-side, and full-width freezers of the Sub-Zero brand before. It's not a problem to fix any malfunction or faulty behavior of any of these fridge types!