JT Appliance Repair Highland Beach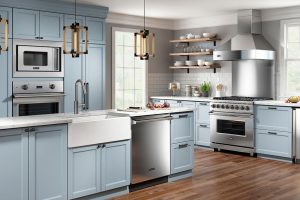 Appliances do so much to improve the comfort and convenience in our lives. Businesses and individuals use appliances to accomplish a variety of vital tasks which increase their productivity and livelihood. That is why it could be devastating if one of these appliances were to break down and stop working all of a sudden.
How would you ever cool or heat the rooms of your building if your HVAC unit breaks? How would you ever cook food if your oven and stove break? These are the big questions facing businesses and residents all over Highland Beach. Fortunately, the simple answer to these questions is to hire a professional appliance repair company.
JT Appliance is a professional and respected appliance repair company in Highland Beach. We have the expertise to repair domestic and commercial-grade appliances from several brands and models. We have been doing this for over 25 years while achieving exemplary results for our customers. Let us do the same for you.
Call us at (561) 902-4694 if you have an appliance that no longer works. We'll send a qualified appliance repair technician to resolve the problem for you.  
Why Hire JT Appliance Repair
There are few appliance repair companies in Highland Beach with over 25 years of experience. JT Appliance brings decades of skill, experience, and training to every appliance repair job in Highland Beach. We have established a vast reputation for delivering high-quality results quickly and efficiently. Now, let us do the same for you whenever you have appliances needing repair.
Our technicians are capable of repairing many different types of appliances. Some examples of the appliances we can repair include the following:
Refrigerators
Washers
Dryers
Ovens
Ranges
Walk-in Freezers
Water heaters
Ice machines
Air conditioners / HVAC systems
Gas-based appliances
We can repair almost any type of appliance in a home or business. If you want to know whether we can repair your particular appliance unit, give us more information about it when you contact our office. Also, describe the nature of the problem you are experiencing with the appliance. Based on the information provided, we'll be able to estimate whether it is repairable and how much it will cost you for the service.
Brands JT Appliance Service
There are many different appliance brands in Highland Beach. The brand of your faulty appliance makes no difference to us. JT Appliance has worked on appliances from dozens of diverse brands. These are some of the most recognizable brands promoted in Highland Beach and surrounding towns and cities. Some of these brands include:
Sub-Zero
Viking
KitchenAid Built-In
GE Monogram
U-Line
Scottsman
Mielie
Dacor
DCS
True
JT Appliance works as a team on every appliance repair project. Our team consists of professional appliance repair technicians, parts specialists, and customer support representatives. Through a collaborative effort, our team can address the specific needs of each customer contacting us for assistance.
Contact
Do you need to consult with our technicians regarding your faulty appliance in Highland Beach? If so, we welcome you to contact our customer support representatives by calling us at (561) 902-4694.
Please provide as many details as you can about your appliance and the problem you are experiencing with it. This information will help us send the most qualified technician to come to your property and resolve the issue with your appliance.
FAQs
1) What is the response time for an appliance repair service request? 
The response time depends on the seriousness of your emergency. JT Appliance offers two service delivery options for emergencies and non-emergencies.
So, for instance, if you have an appliance problem that isn't significantly affecting your daily life, then you may choose to submit a non-emergency repair request. In this case, we would schedule an appointment for a qualified technician to come out to your property within the next few days.
However, if your appliance problem significantly affects your daily life, you can request an emergency service from our customer support team. We'll dispatch an emergency service technician to your address immediately. After that, they should arrive at your address within 60 minutes after the request is submitted.
2) Can you repair appliances older than 20 years? 
JT Appliance Repair is willing to inspect any faulty appliance to determine the nature of the problem and whether the appliance is salvageable. Older appliances are certainly more challenging to repair than others, but that doesn't mean they cannot be repaired. Therefore, a thorough inspection of your appliance is the best way to know for sure if it can be repaired.
Sometimes an older appliance may have too many worn-out parts to be saved. And since these parts may not be manufactured anymore, it may require you to replace the entire appliance. We'll let you know one way or the other after our inspection is complete.